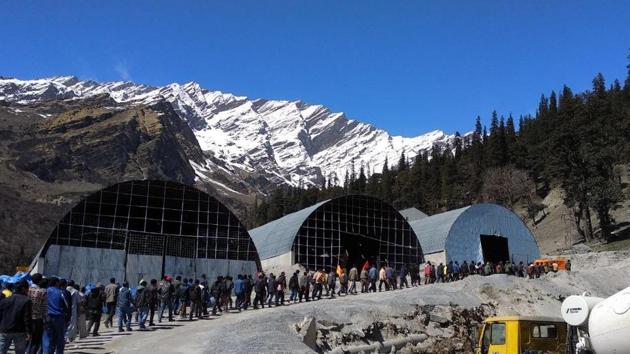 Work on Rohtang Tunnel halts as over 500 workers go on strike
Workers' body, affiliated to RSS' Bhartiya Mazdoor Sangh, alleged violation of labour laws by companies engaged in construction of the tunnel.
UPDATED ON APR 03, 2018 11:40 AM IST
For the past four days, no work has taken place on the strategic 8.8km long Rohtang tunnel, as more than 500 workers went on strike, citing violation of labour laws.
Workers began their protest on March 27 as the private firms - German group Strabag and Indian firm AFCON Infrastructure Limited, which have been engaged for the construction of the tunnel, failed to pacify them on Saturday, which resulted in continuation of the strike.
The protesting workers have threatened to remain on strike until their demands are met or a concrete solution is formed for their issues. The workers' body - Himachal Pradesh Nirmaan Kaamgaar Sangh - claimed to be affiliated to RSS's Bhartiya Mazdoor Sangh. The body is demanding to bring all workers under labour laws and also call back the labourers who were sent home.
Their 13-point demand charter read, "We live in unhygienic conditions. Despite repeated requests, no improvements have been made. Food timings are odd and sitting arrangement is not proper."
The association's president Dharmender Singh said, "Talks should be held in a positive atmosphere to resolve the issues of workers." He claimed, "We are forced to go on strike as our demands charter was trashed earlier. We were harassed by contractors."
The digging work of the 8.8-km long all-weather tunnel, which began in 2010, has been completed. However, the civil work is on and will be completed by 2019. The tunnel connects Dhundhi (south portal) of Kullu district and Sissu, (north portal) of Lahaul and Spiti district.
The estimated cost of the project in 2010 was ₹1,700 crore. It was revised to ₹2,000 crore in 2015 and the projected cost of the project by 2019 is pegged at ₹4,000 crore. Conceived in 1998, the project was announced by then Prime Minister Atal Bihari Vajpayee on June 3, 2000. The work was entrusted to the Border Road Organization (BRO) on May 6, 2002. United Progressive Alliance (UPA) chairperson Sonia Gandhi laid the foundation stone of the project on June 28, 2010.
The Army is hopeful of completing the contruction of the tunnel next year. Chief engineer, BRO, Brig Nilesh Chandrana said, "We have asked the contractors to resolve the issues with workers. The construction work has entered its last leg and we are working exhaustively to complete it by next year."
Meanwhile, none from the private firms could be contacted.
Close