You don't deserve a hearing: 'Leaks' in CBI case irk Chief Justice Gogoi
The Supreme Court bench took strong exception to the wide coverage of a petition filed by a senior CBI officer Manish Sinha.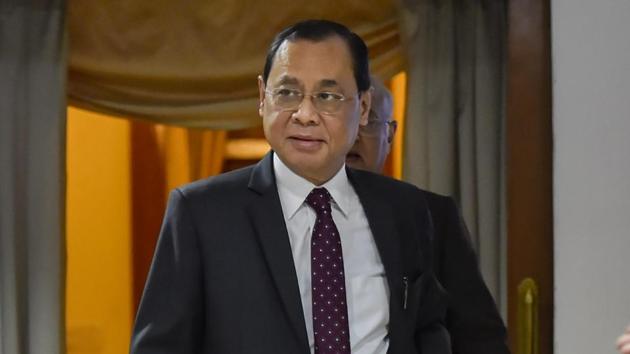 Published on Nov 20, 2018 11:23 PM IST
High drama was witnessed in the Supreme Court on Tuesday, with Chief Justice of India (CJI) Ranjan Gogoi, whose bench was to hear the Central Bureau of Investigation (CBI) case, taking umbrage at two media reports and deferring the hearing to November 29 even as he warned that he would not allow anyone to "use the court as a platform" for anyone to express "whatever they want to."
The bench took strong exception to the wide coverage of a petition filed by a senior CBI officer, Manish Sinha, in the Supreme Court on Monday that made sensational claims against a minister, several CBI officers, the National Security Advisor, the country's top vigilance officer, and the law secretary. It said this coverage went against the court's desire to maintain "respect of the institution (CBI)" and confidentiality. A copy of Sinha's petition was shared widely by his advocate after mentioning the matter in court — as is the general practice. The court declined an early hearing of the petition.
Chief Justice Gogoi saw it differently: "Yesterday we refused a mentioning [of Sinha's petition] and expressed that highest degree of confidentiality should be maintained. And this litigant gives it to everybody. Our effort to maintain respect for the institution is not respected."
The court was also incensed over what it initially thought was a leak of CBI director Alok Verma's affidavit filed in a sealed cover before the bench in response to the Central Vigilance Commissioner's (CVC's) enquiry report on the corruption allegations against the agency chief.
"We want to know what is going on. This court is not a platform for people to come and express what they want. This is a place where adjudication of legal rights takes place. And we intend to set it right," CJI Gogoi remarked.
It was subsequently clarified on Verma's behalf that the news report on a website was not this but his response to the CVC queries that were put to him pursuant to the court's October 26 order asking the vigilance commissioner to complete the probe within two weeks. That report expressed Verma's doubts about the integrity of the CVC and also hinted at the involvement of someone from the Prime Minister's Office in the case against him.
Sinha had on Monday approached the top court against his transfer to Nagpur, the orders for which were issued on October 24, within hours of the government asking Verma and CBI special director, Rakesh Asthana, to proceed on leave.
The two officers were engaged in an internecine power struggle and had also accused each other of corruption. Verma challenged this order, resulting in the court's October 26 order to CVC which filed its report last week. Verma was given till November 19 to file his response to CVC's findings which the bench described as a mixed bag.
Upset with the reports, the court refused to even hear Verma's petition questioning his forced leave. He is to retire on January 31.
On Tuesday, it was clear all was not well even as CJI walked into the court a few minutes late. He brushed away lawyers waiting to mention urgent cases and handed over a copy of the second news report (the one about Verma's responses to CVC) to senior advocate Fali Nariman, Verma's lawyer. "We are not handing over this to you as Verma's counsel. We have given this to you as a senior and respected member of the bar. We want you to respond to this. Take time if you want," CJI Gogoi told him.
Nariman read the headlines of the report and admitted that it was " disturbing". After this, CJI Gogoi adjourned the case." "None of you deserve a hearing," he said.
Minutes later, though, Nairman appeared in court again and clarified that the report handed over to him was dated November 17 and contained details of Verma's responses to CVC when he was being questioned by the agency. CJI Gogoi then said there were more such reports and that he had handed over just one. "We have not given it to you as a counsel of Verma. There is one more we will give you and regardless of who you are representing we are very confident that it would not come in the way of your helping us," the CJI said.He asked his staff to look for the other report, which they couldn't find. At this, CJI Gogoi grew visibly disturbed. "We are unable to help you or help ourselves due to highest efficiency of our staff. You should all quit," he told his staff.
CJI declined to hear any other lawyer. Solicitor general Tushar Mehta, who appeared for CVC, wanted to make a submission against the media reports but was not allowed to.
Topics
Close Story
Personalise your news feed. Follow trending topics