YSR Congress' Jagan Reddy attacked at Vizag airport, party says it was pre-planned
Updated on Oct 26, 2018 12:15 AM IST
Jagan Reddy was on his way to Hyderabad to attend the weekly trial in a case against him, when the attacker came to him to serve coffee.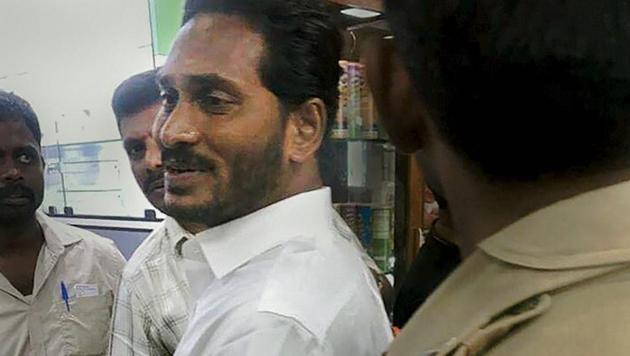 Hindustan Times, Vijayawada |
Gali Nagaraja
YSR Congress chief YS Jagan Mohan Reddy was attacked with a knife by a 30-year-old restaurant worker at the airport in Andhra Pradesh's Visakhapatnam on Thursday, which his party said was pre-planned and accused the state government of failing to provide security to the leader of the opposition.
Reddy was on his way to Hyderabad to attend the weekly trial in a case against him, when the attacker, later identified as Janipalli Srinivasa Rao, came to him to serve coffee.
"After serving the coffee, the man requested for a selfie with Jagan. As the YSRC president was obliging his request, he took out a sharp-edged knife from his pocket and attacked an unsuspecting Jagan. The knife pierced into Jagan's left arm," Andhra Pradesh's director general of police RP Thakur said while speaking to the media later.
"Immediately, CISF (Central Industrial Security Force) assistant commandant Dinesh Kumar and Jagan's gunmen responded quickly, overpowered the assailant and handed him over to the CISF security personnel," Thakur said.
The top police official said a special investigation team headed by Visakhapatnam assistant commissioner of police (north zone) Srinivasa Rao was constituted to probe the case. Visakhapatnam Police booked a case under Section 307 of the Indian Penal Code against Rao.
Police said Rao, a resident of Taniyalapalli village of Mummidivaram block near Amalapuram in East Godavari district, had been working as a chef in Fusion Foods Restaurant in Visakhapatnam airport for the last one year.
Visakhapatnam deputy commissioner of police Mahendra Patrudu said preliminary investigations revealed that Rao is an activist of YSR Congress party and a follower of Jagan Reddy.
"It appears, he has resorted to offence only for gaining popularity," he said.
Reddy, who was given first aid at the airport lounge, left for Hyderabad on the scheduled flight. The 45-year-old leader checked himself into the Citi Neuro Centre at Banjara Hills after reaching Hyderabad, where doctors examined him. Doctors said his wound was deep and he received three stitches.
Reddy called the knife attack on him as cowardly and said it will strengthen his resolve to work for the people after he was injured in the incident.
"To everyone worried about my safety - I'd like to inform you that I am safe. God's grace and the love, concern & blessings of the people of Andhra Pradesh will protect me. Such cowardice acts will not dissuade me but only strengthen my resolve to work for the people of my state!" Reddy tweeted.
Governor ESL Narasimhan spoke to Andhra Pradesh DGP Thakur after the attack and asked for a report on the incident. YSR Congress party leaders Malladi Vishnu, Jogi Ramesh, Vellampalli Srinivas and Yarlagadda Venkat Rao also went to the DGP's office, seeking immediate action.
YSRC party workers later blocked the roads leading to the airport in Visakhapatnam demanding action against the accused.
CISF's inspector general CV Anand, however, said there was no lapse on the part of the force and that it was the job of the local police to ensure security to Reddy inside the airport.
Andhra Pradesh chief minister N Chandrababu Naidu, who reviewed the developments with his ministers, condemned the attack on Reddy and said stern action would be taken against those involved in the incident and those who masterminded the attack.
"At the same time, the government will not tolerate the YSRC party workers if they try to create law and order situation in the state taking advantage of the situation," he said.
State home minister N Chinna Rajappa promised to ensure an impartial probe, saying the guilty will be punished regardless of his status and background.
Union minister for civil aviation Suresh Prabhu condemned the "cowardly attack" on Reddy at the Visakhapatnam airport and asked all agencies to probe the matter thoroughly.
"Shocked by attack on Mr Jagan Reddy. Asked all agencies to investigate matter thoroughly, including @CISFHQrs. Asked secretary civil aviation to fix responsibility. I strongly condemn this cowardly attack, we will punish the guilty. Investigations are underway, started immediately," Prabhu tweeted.
BJP national spokesperson GVL Narasimha Rao, Telangana IT minister KT Rama Rao, Nizamabad MP K Kavitha, Jana Sena Party chief Pawan Kalyan, MIM president Asaduddin Owaisi and others also condemned the attack and demanded a thorough probe.
(With inputs from Srinivasa Rao Apparasu in Hyderabad)