Zakir Musa as al-Qaeda's local chief is bad news for Kashmir
For Musa, the armed insurgency was aimed at the creation of an "Islamic Kashmir", unlike the stated position of militants whose aim is to separate Kashmir from India.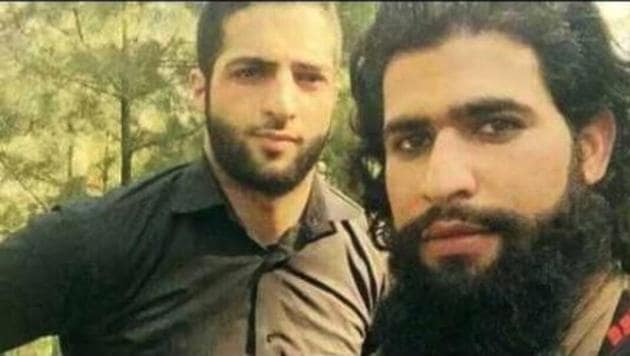 Updated on Jul 28, 2017 12:45 AM IST
In 2015, Burhan Wani, a 21-year-old militant commander from south Kashmir's Tral area, redefined militancy in Kashmir when he posted a picture of 11 gun-toting men dressed in army fatigues. For the first time, the militants were unmasked, in what seemed an open dare to the security forces in the Valley.
Two years later, most of the militants in the Valley, including Wani, have been killed in various encounters with security forces. The three surviving militants include Zakir Musa, who after Wani has become one of the most dreaded militant. But unlike Wani, Musa is making news for different reasons.
While Wani was a considerable moderate, whose last video message asked people to welcome tourists and Amarnath Yatris with open heart, Musa is known for more radical "Sharia and Sahadat slogan".
The open radicalisation forced Musa to sever ties with the Hizbul Mujahideen, as the outfit trashed his threat to behead separatist Hurriyat leaders, a development that had the potential to impact militancy in Kashmir.
Musa's decision signalled serious differences among home-grown militants and the outfit's leadership, based in Pakistan-occupied Kashmir (PoK).
Islamic Kashmir, Not Secular One
Musa said the armed insurgency—which has claimed the lives of thousands of civilians and security forces since 1989—was aimed at the creation of an "Islamic Kashmir", unlike the stated position of militants whose aim is to separate Kashmir from India.
"...If Hizbul Mujahideen doesn't represent me, then I also don't represent them. From today onwards, I have no association with Hizbul Mujahideen," Musa had said in an audiovisual statement after facing criticism for his Hurriyat threat.
"...Our intention should be that, we have to achieve 'azadi' (freedom) to establish Islamic rule and not for secular state. If we are fighting for secular state, then my blood won't be spilled for that purpose."
The rift surfaced after Musa had called leaders of the Hurriyat Conference "hypocrites, infidels, followers of evil" and threatened to chop off their heads "if they create hurdles in the path of making Kashmir an Islamic State".
He had said their heads will be hanged in Srinagar's Lal Chowk, as Hurriyat leaders, including hardliner Syed Ali Shah Geelani and moderates Mirwaiz Umar Farooq and Yasin Malik, had denounced Islamist organisations such as the ISIS and al-Qaeda, saying they had no role in Kashmir.
Analysts said separatists in Kashmir have always disassociated themselves from radical Islamist groups, mainly to maintain legitimacy as a political struggle that carried Kashmiris' support and have always insisted that the struggle was indigenous.
"Not only in the current geo-political situation, Kashmiri separatists have always distanced themselves from radicalised hardliners and groups such the ISIS and al-Qaeda," said senior journalist Sheikh Mushtaq.
Even incidents of waving ISIS flags in Kashmir were aimed at riling the government, police in Kashmir had always maintained.
Shift After Split
After the spilt, Musa did not restrict himself to the politics of Kashmir only, not only did he praise terror outfits like al-Qaeda , he also asked Indians to wage a holy war on those who claim to be gau rakshasks (cow protectors). The 4-minute audio clip was the first public statement by a Kashmiri militant on the self-styled vigilante groups.
Although DGP S P Vaid said nothing on the ground changes for the security establishment after al-Qaeda announcement, sources say the pattern of violence might change post the announcement.
"He (Musa) represents the rabid element in militancy. He wants justification for robberies, civilian killings which he wants to find in radicalisation," said an official, who did not want to be named.
Born Zakir Rashid Bhat in July 1994, he was reportedly appointed commander after Wani was killed security forces—which led to the 2016 Kashmir unrest in which at least 100 people lost their lives and thousands were injured.
He is of economically sound family from a family of professionals with an engineer father and a surgeon brother. No one though knows the reasons for his joining militancy.
Then a student of BTech in Chandigarh, he had come home for vacations with his friends from college and he decided to stay back. Days later, he left home to join Wani in the jungles. Musa has been classified as A++ category (the most dreaded according to police) and carries a bounty of Rs 10 lakh on his head.
While Musa has not been able to garner much support among the ranks of militants, slogans in his support have been heard in many funerals of militants lately.
Video evidence showed that pro-Musa slogans were raised even while an unruly mob was beating a police officer to death on Islam's holiest night, Shab-e-Qadr during Ramzan this year.
Close Story
Personalise your news feed. Follow trending topics