Dominant India aim to seal series, prolong Australia misery at Indore fortress
Updated on Sep 23, 2017 08:01 PM IST
Virat Kohli's Indian cricket team will be aiming to seal a series win against an Australian side still struggling to counter the spin and their formidable record in Indore will boost their chances immensely.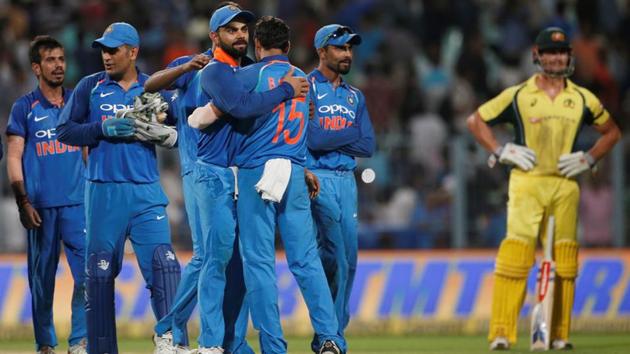 After several days of persistent rain and gloom, Indore was finally greeted by bright sunshine on Saturday. With the weather expected to be clear on match day, Virat Kohli's Indian cricket team will go all out to secure a series win against Australia.
Victory in the ODI at the Holkar stadium will give India a hat-trick of bilateral ODI series win against the Aussies at home. After losing the 2009-10 series 2-4, India have won the next two series 1-0 (2010-11) and 3-2 (20013-14).
READ | Aaron Finch trains hard ahead of Indore ODI, Australia batsmen get extended spin trial
The Holkar stadium is India's fortress. In four ODIs at this venue, the Indian team has emerged victorious every time. With short boundaries and the pitch good for batting, India hold all the aces.
All well for India
When India arrived for the practice session, every player performed like clockwork. Virat Kohli was the first to get some batting practice. However, Kedar Jadhav had an extended session for close to an hour. Hardik Pandya was smashing the spinners all over the park while Ravindra Jadeja had a batting session for an hour. Team India coach, Ravi Shastri, also decided to have fun and bowl on the side wicket. This was a team that was performing like a well-oiled machine.
Virat Kohli's side currently has all bases covered. Ajinkya Rahane chipped in with a fifty while Virat Kohli showed his class with a 92 in the Kolkata ODI. MS Dhoni and Hardik Pandya have shown their mettle in difficult situations. However, the X-factors in the team are the two wrist-spinners, Kuldeep Yadav and Yuzvendra Chahal.
READ | Virat Kohli or Ahmed Shehzad? Pakistanis choose Indian cricket team captain
The India vs Australia series has given rise to this new spin bowling duo. The guile and skill of both bowlers has been a huge factor behind India's two wins. In addition, the swing bowling prowess of Bhuvneshwar Kumar broke Australia's spirit at Eden Gardens.
With India having so much depth and flexibility in both batting and bowling, it is no surprise that they have won seven straight ODI games. In the pre-match press conference, Ajinkya Rahane stated that the current team's flexibility gives them the edge. "The good thing in this team is anyone can bat at anywhere. We have that flexibility,' Rahane said.
READ | This is David Warner's new mantra to tackle spin in 3rd India vs Australia ODI
Australia doomed
Undone by swing bowling, undone by leg spin, anything that can go wrong for Steve Smith's Australian cricket team has gone wrong. Bad opening stands and inability to sustain good partnerships have also hurt Australia immensely.
David Warner pointed out that the inability to get off to a good start led to frequent collapses. "If you get off to a good start and when the spinners come on, it is a different ball game. When you lose wickets in clumps, one gets tentative. Our mindset is to score runs and put the bowlers under pressure but that has not happened in the series," Warner said.
READ | Michael Bevan seeks Australia batting coach role after string of collapses
With Australia losing 10 out of their last 12 overseas ODIs, the pressure is on Smith to reverse the trend. Before the Kolkata ODI, former skipper Michael Clarke had said that Smith's captaincy faces a challenge which he brushed aside. A loss in Indore will certainly raise question marks on his captaincy.