Umesh Yadav wants rotation policy for Indian pacers to continue
Updated on Sep 30, 2017 05:00 PM IST
India pacer Umesh Yadav feels Virat Kohli's policy to rotate bowlers in Indian conditions will help them last long and avoid injuries.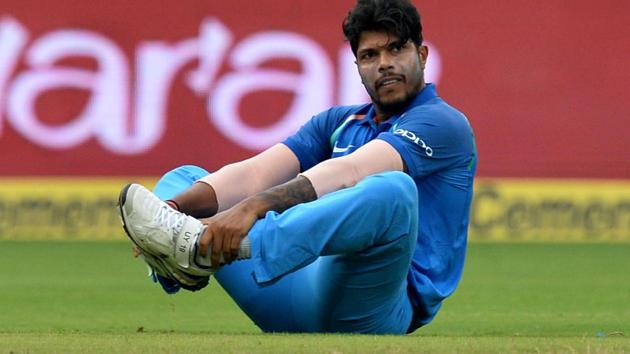 India fast bowler Umesh Yadav on Saturday lauded skipper Virat Kohli's rotational policy for fast bowlers, stating that using a select group of pacers for Tests and limited-over format helps them stay fresh throughout the year.
"I think it's good for the fast bowlers. If you continuously play Test cricket, it's a lot of load for a fast bowler. Playing in sub-continental conditions is very tough. Slow wicket, no pace and bounce. It's very hard for the fast bowlers to come to one-day cricket with the same intensity," Umesh said while addressing the media a day ahead of the fifth ODI between India and Australia.
READ | How Virat Kohli factor is spurring Australian cricket team's resurgence in ODIs
"When you have played a long season, recovery is very crucial. You can play a lot of matches but your fitness can take a hit. There are more chances of injuries and breakdowns. I think the management is doing a good job in balancing our workload."
On a personal front, however, Yadav admitted that being a senior player, he must put in that extra bit to continue playing across all three formats. Yadav, who featured in the series for the first time in the last ODI, picked up four wickets but leaked 71 runs, including 24 in his last two overs. "I know we gave 15-20 runs extra, we should have controlled that. But still, Mohammed Shami and I just played our first game after a long (time), but we are senior bowlers and have to take the responsibility for the same," said Yadav, who will be playing on his home ground.
READ | On Dussehra 2017, India's cricket, sports stars seek 'triumph of good over evil'
He seems to have cemented his spot in the five-day format though having featured in 15 of the last 16 Tests have India played at home and away. Asked if it was a conscious decision to focus on a particular format, Yadav said, "It depends… If you have a lot of Tests scheduled throughout the year, you'll have to take a call (about your preferred format). But you can't say I want to play only Tests, because if you don't have many Tests scheduled in a year you won't have much to do for the rest of the year. The body, too, needs match practice to get better."
READ | Tom Alter, man who took Tendulkar's 1st TV interview, wanted MS Dhoni banned
He, however, stated he relishes the challenge of the longer format more given that it allows him time to settle down and work on his plans. "It feels good to play Test cricket because you have time. You have various situations. I like those challenges. I like the fact that pitches are different and want to take wickets on various surfaces. I'm more than happy to play Test cricket. If I play both formats, I know it will be good for me. I'm in an age where the more cricket I play, it's good for me. I shouldn't regret later on that I focused only on one format. I would love to play all formats."