Virat Kohli 'rescues' MS Dhoni, asks 'why are you targeting him?'
Virat Kohli has blasted critics who are targeting MS Dhoni, stating that the former Indian cricket team skipper did not get to bat much in the series against New Zealand and added that the 36-year-old understands his role in the current team.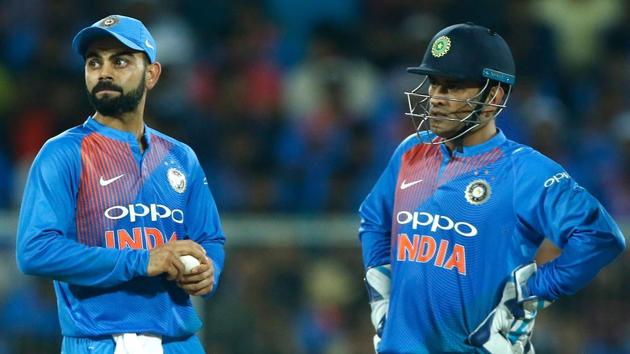 Updated on Nov 08, 2017 07:15 PM IST
Shortly after clinching the three-match Twenty20 International series 2-1 against New Zealand at Thiruvananthapuram, India captain Virat Kohli lashed out on those criticising and questioning MS Dhoni's spot in the playing XI.
"I don't understand why people are pointing him out. If I fail as a batsman three times, no one is going to point fingers at me because I am not over 35. The guy is fit, he is passing all the tests. He is contributing to the team in every tactical way on the field. With the bat, he did really well against Sri Lanka and Australia," said Kohli.
"In this series, he didn't get much time to bat. You have to understand that the position he comes in to bat, even Hardik Pandya could not score in that game so why are we pointing out one man. Hardik as well got out in the last T20 in Rajkot. You are conveniently targeting one man which is not fair."
Dhoni came in for severe criticism after the Rajkot game where his 49 was laden with dot balls. Former India cricketers Ajit Agarkar and VVS Laxman felt that probably the former India captain's time is up.
"By the time he comes in, the run rate is already 8.5-9.5. The wicket is also not the same like when the new ball is being bowled. Batsmen who are set at the top find it easier to strike the ball straight away compared to guys who come lower down the order. The kind of wickets that we played on, wear and tear has been much more in the latter half," said the 29-year-old about his predecessor.
"You have to assess everything. As team members and management, we understand the situation when people go in to bat, we don't get emotional and excited about opinions of people who are looking at things from a different point of view. You understand how the wicket is behaving, in what situation you are in."
In the ODI series against the Black Caps, MS Dhoni's scores were 25, 18* and 25 while he scored 7*, 49 and 0* in the T20s.
"He is doing absolutely fine. He is working hard on his game, understands his role but it doesn't come off every time. He hit a six in Delhi and it got showed five times in the post-match show and suddenly he doesn't score in one game and we are after his life," Kohli said, backing the 2011 World Cup winning skipper.
"People need to be a bit more patient. He is a guy who understands where his cricket is. He is a very smart guy and understands where he stands with his body and game. I don't think anyone else has the right to decide that for him."
Close Story