Lok Sabha Elections 2019: Bajrang Bali gets into political discourse
Since the last week, Bajrang Bali or lord Hanuman, has found a liberal mention on political stage in the speeches of many leaders including UP chief minister Yogi Adityanath and BSP chief Mayawati.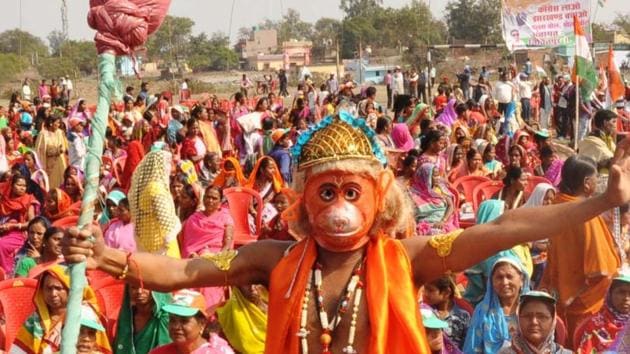 Updated on Apr 15, 2019 10:57 AM IST
Hanuman Jayanti, celebrated as the birthday of Bajrang Bali as lord Hanuman is known to Hindus -- is on April 19. But politicians have already begun chanting his name.
Since the last week, he has found a liberal mention on political stage. Soon after Congress chief Rahul Gandhi wished people on Hanuman Jayanti in a tweet, Bajrang Bali figured again in an election rally in Amroha with chief minister Yogi Adityanath targeting political rivals in his name. "Those who previously didn't believe in Lord Ram and Lord Krishna have now come to the refuge of Bajrang Bali," Adityanath told an election rally on Sunday. It was Adityanath who had first used a reference to the lord to make a political point in Meerut last Tuesday. "If they (the SP-BSP-RLD alliance) have Ali, we too have Bajrang Bali," he had said.
Azam Khan, the Samajwadi Party's Muslim face, who is contesting his first Lok Sabha election from Rampur, wasted no time in retorting. "A Muslim lawmaker of the BJP had said that Hanuman was a Muslim. So now, the Ali vs Bajrang Bali dispute is resolved. We should now call him Bajrang Ali," Khan had said at a rally amid cheers.
Khan was referring to the statement by BJP MLC Bukkal Nawab who had in December last said since majority Muslims had names like Zeeshan, Furqan, Ehsaan that rhymed with Hanuman, the lord was likely to be a Muslim. "We believe Hanuman is one of the 19 incarnations of Lord Shiva and chanting of his name brings good luck, something which other political parties too seem to believe in. We are happy that because of us our political opponents too have started reme mbering the lord they had forgotten for narrow vote bank politics," BJP spokesman Navin Srivastava said.
On Saturday during an election rally in Badaun, BSP chief Mayawati said that Hanuman was closer to the BSP because he was a Dalit. "It is an honour for us that Yogiji gave us this important information (that Hanumanji is a Dalit). Ab Ali bhi humare hain aur Bajrang Bali bhi (now we have both Ali and Bajrang Bali on our side.) People of Bajrang Bali's caste (Dalit) had already shunned BJP and Congress and their (Muslims and Dalits) coming together will bring good results for the alliance," she said.
Adityanath had then in a clarification said that he was misquoted, but the opposition pressed on with the claim that Yogi had during an election rally in Rajasthan on November 27 mentioned Hanuman as Dalit.
On Sunday Adityanath responded to Maya saying those who shunned Lord Ram and Lord Krishna earlier were now seeking refuge in Hanuman. Chaudhary Laxmi Narain, a senior minister of Adityanath's cabinet had in December said he felt Lord Han uman was a Jat, an OBC. Reason? "Because like the Jats, he too has a tendency to intervene in others' matters," the minister said. "We respect every religion and believe in the unity of all religions while BJP is using Bajrang Bali's name for polarisation," said SP spokesman Abdul Hafiz Gandhi.
For complete coverage of Lok Sabha Elections 2019, click here
Close Story
Personalise your news feed. Follow trending topics