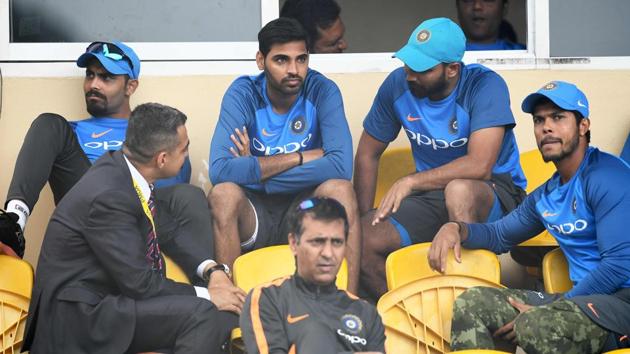 Arjuna Ranatunga believes India's pace attack no longer one-man show
Sri Lanka's World Cup-winning captain Arjuna Ranatunga believes that India's pace attack is no longer a one-man show thanks to the presence of fast bowlers like Mohammed Shami and Umesh Yadav.
Hindustan Times, Colombo | By Sanjjeev K Samyal
UPDATED ON AUG 08, 2017 08:37 AM IST
From India's visit to Sri Lanka in 2015 to the current series, Virat Kohli has seen his team become a champion outfit, triumphing in eight successive series. Few sides have come to Sri Lanka and shown the kind of domination Kohli's team is displaying. Sri Lanka's former captain Arjuna Ranatunga attributes the transformation to India's improved fast-bowling arsenal.
"India's fast-bowling attack has been very positive, which had been lacking for a long time," Ranatunga says affirmatively.
READ | Wriddhiman Saha: 'It's not compulsory to sledge, MS Dhoni never did'
Excerpts from the interview:
Q: What do you feel is this Indian side's strength?
It is their fast-bowling attack, which had been lacking for a long time. They have two good spinners and 4-5 good fast bowlers. It's not the most experienced batting lineup but they are getting there; their commitment is there, they look pretty professional. They can be No 1 but they have to keep that going.
They never had fast bowlers like this before. They (only) had Kapil Dev, (Javagal) Srinath… we too had the same problem. Now, they have too many options. I don't know where they are coming from, whether they are from the MRFs or the academies. That's something (missing) in Sri Lanka. We have better fast bowlers than our days, but we don't know how to protect them.
You need proper cricketing heads. The problem (here) is everyone wants to earn money and forget about winning and protecting cricketers.
READ | Raksha Bandhan & Friendship Day: This is how Indian cricketers celebrated
Q: What are your views on the importance of a coach…we had a huge controversy in India?
Ultimately the captain runs the show, coaches are there to guide. If coaches are going to run cricket, then it is a disaster. Ultimately, the vehicle is driven by the captain. Coach can be the conductor. When a coach tries to be driver, we will have issues. But I am disappointed when people like Kumble are taken off, (though) Ravi can be a good coach. If something goes wrong, the captain takes the blame.
Q: Any similarities between your and Kohli's style of captaincy?
I have seen him as a batsman but I still can't rate him as a captain. As a batsman, I rate him highly. I am not passing judgement on him as captain; he has a long way to go. If you want me to compare him now with skippers likes (Mohd) Azharuddin, (MS) Dhoni and Kapil Dev, he has a long way to go. I feel they were really top-class captains.
READ | Wriddhiman Saha proves pedigree with masterclass behind stumps at Colombo
Q: What's your advice for Kohli?
I prefer him to be a little sober (though) I don't think he will agree with me. We have a culture in our part of the world (India, Sri Lanka) in the sense that we are not as aggressive as the Australians or the English. You need to be aggressive when you have to be aggressive. You don't have to be aggressive every time. You don't have to show a lot of aggression when you are the captain. That can percolate down to the team, which is one reason I don't show it. I get frustrated but I don't show in the middle. If he asks me, I will say 'calm down a bit'. He is young, he will learn. Give him five years; he will be a different actor.
Q: What are the challenges facing Sri Lanka cricket?
Honestly, I stopped watching cricket. I was very disappointed after the last cricket elections. I had the opportunity to contest for vice-presidency but I took a step back and allowed them to run. They ran it for two years, messed up everything. Cricket was something like a religion to this nation, and we don't have a religion now.
I think a lot of people (now) don't watch cricket. It's all about wrong administration. We have a sports law, which categorically says that people in the business of gambling cannot get involved in sports…the entire country knows the present (Board) president's family business.
READ | VIDEO HIGHLIGHTS: India inflict innings defeat on Sri Lanka in Colombo Test
I'm concerned about the young generation, especially the school cricketers and young cricketers. If we go on like this, we are heading towards disaster.
Q: How frustrating is it to see things come to such a pass?
It's very frustrating because we are a very talented cricketing nation. People don't know how to handle them (cricketers). They talk about physique but what is important is cricket fitness. A lot of people are talking about six packs. I say, 'pick 15 models and ask them to play cricket'. It's unfortunate that the people who take decisions on cricketing matters haven't seen proper cricket. Players like Duleep Mendis, (GR) Viswanath, (Mike) Gatting and (Colin) Cowdrey wouldn't have played cricket had people like these run cricket then.
Q: You had raised concerns about the 2011 World Cup final…
I never said I was concerned about match-fixing (during the 2011 World Cup final). I said there were issues, which needed to be addressed. I was not alone; the entire country saw it. I am not taking the credit away from India. Unfortunately, the way we approached that game and some of the things that happened in the final, I was not comfortable. So, I said, these are the things the ICC should get into. I never said 'match-fixing issue'. Now, take (for example) the Zimbabwe tour. There were issues, but without proof, I don't want to talk. I am sure the ICC can get into it…they can get the videos and see if there are unwanted peoples who have got into it (dressing room). These are the things I always said the ICC should take decisions on. (But) they are toothless tigers, maybe worse than that!
READ | India not worried about home or away, winning the sole target: Virat Kohli
Q: Have you spoken to the ICC?
No, because I am not directly involved in cricket. Not just the ICC, our sports ministry should (also) do it because when things are bad you have to stop it, get rid of the cancer.
Close