Assam's tea gardens become hunting ground for child traffickers
Updated on Sep 03, 2015 09:32 PM IST
Children have gone missing from the tea gardens of Assam , feared to have been lured by traffickers active in an economically-backward region. And the tea workers have turned out to be the most vulnerable to trafficking, according to activists and the government.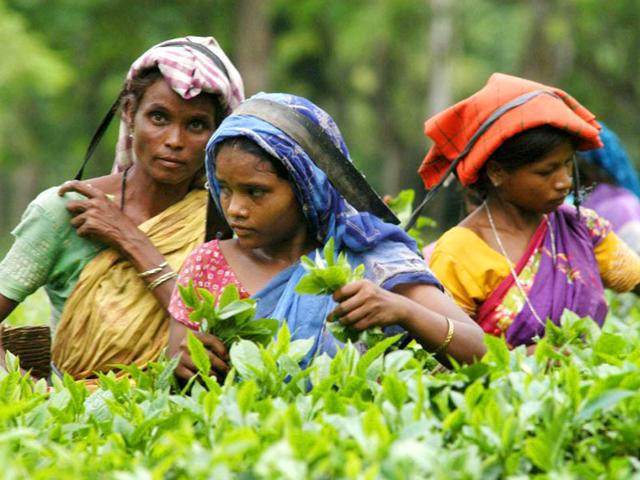 Hindustan Times |
, Baksa / Guwahati
Anasuya S Basu
As the day breaks over a lush-green tea plantation in Assam's Baska district, a group of men, women and children file into the neat rows of tea bushes for the early-morning plucking.
It is a picture-postcard setting, and the murmur of the workers is only broken by the chirping of birds and the occasional shout by the leader to "hurry up".
Yet, the serenity is just a façade, hiding fault lines running beneath in the garden, and other tea plantations in lower Assam.
Children have gone missing from the gardens, feared to have been lured by traffickers active in an economically-backward region. And the tea workers have turned out to be the most vulnerable to trafficking, according to activists and the government.
In this garden alone, 25 children have gone missing over the past few years, deepening a crisis which has assumed staggering proportions in some other parts of the country.
Official data show that on an average, nearly one lakh children go missing every year in the country, most of them suspected to be trafficked to big cities where they are forced into a lifetime of bonded labour or end up as prostitutes.
This year alone, nearly 16,000 children were reported missing till April but only around 7,000 have been traced so far.
In Assam, 9,500 children went missing from different places between 2007 and June 2014. Only 3,840 children have been recovered so far.
Faced with a growing crisis, the state government recently joined hands with Nobel laureate Kailash Satyarthi's NGO, Bachpan Bachao Andolan (BBA), to create a corpus fund of Rs 2 crores for rehabilitation and welfare of trafficked children.
Activists say that missing children from the tea estates make up a large chunk of the total figure of those who have vanished without a trace. And the menace is most tangible in the tea gardens of lower Assam and parts of West Bengal.
"I break my back to bring world class tea to so many homes but this harvest brings me no joy, only pain. Had I not been so poor, I would not have sent my son away to work," said a tearful Niren Topno (name changed), whose seven-year-old son vanished after he was taken to Delhi by traffickers posing as "businessmen".
The traffickers paid Topno Rs 3,000 as "advance" and also promised that his son would send Rs 6,000 every month. The money never came. Nor did his son.
Complaints filed with the district office of BBA named a woman, Sophiya, as the trafficker.
Operating from Baksa, she is reported to have sent out over 1,000 children between 7-16 years to different placement agencies in Delhi, Mumbai and Bengaluru in the last few years.
Activists said that children of tea garden workers are vulnerable because of their economic condition. The wage for a full day's work is just Rs 115, much below the daily minimum wage in the country, living conditions are poor and education facilities are almost non-existent.
Traffickers weave grand tales of secure and steady income to the gullible parents of the children, the activists said adding that reports of missing children from neighbouring Udalguri, Lakhimpur and Sonitpur districts surface on a regular basis.
Research by the BBA showed that in Lakhimpur alone, nearly 150 girls between 12-18 years of age have gone missing in the last two years.
"Traffickers keep changing the route of their operations and methods to lure young children," said Rakesh Senger of BBA.
Rangiya, a small town near Guwahati with a railway junction, has been identified as the main transit point in Assam for trafficking from the region.
In contrast, the tea plantations in upper Assam have managed to tackle the problem to a large extent.
The Assam Branch of the Indian Tea Association (ABITA) in partnership with UNICEF has been running a programme since 2007 in the three tea growing districts of Dibrugarh, Tinsukia and Sivasagar to address issues of child labour, abuse, exploitation and violence.
The programme so far has reached out to more than 10,000 adolescent girls through formation of 182 groups within the tea estates. These groups keep a close watch on the activities of unknown people who arrive in the villages, spread awareness about child labour, child marriage and also the need for education.
"The programme has been implemented so well and the response is so good that not a single case of trafficking has been reported from any of the tea gardens under the ABITA in the last year and 14 out of 20 cases of trafficking have been prevented since 2007", said Sandip Ghosh, secretary of ABITA.
THE PROBLEM
*Children gone missing in India in the first four months of 2015: 15,988
*Children traced: 6,921 (46%)
*Children missing in Assam between 2007-14: 9,500
*Children traced: 3,840
*Wage paid to a tea-garden worker: R115
HOW UPPER ASSAM RESOLVED IT
*A programme to address child labour, abuse, exploitation and violence
*Covered 116 tea estates, reached out to 10,933 adolescent girls through 182 girls' groups
*Success rate: Prevented 14/20 trafficking cases
Personalise your news feed. Follow trending topics