Azam Khan's remarks on Paris attack spark row, BJP demands action
Updated on Nov 16, 2015 04:31 PM IST
UP minister Azam Khan has sparked another controversy by saying that "superpowers" should think whether the Paris terror attack was a "reaction" to the "killing of innocents" in Arab countries.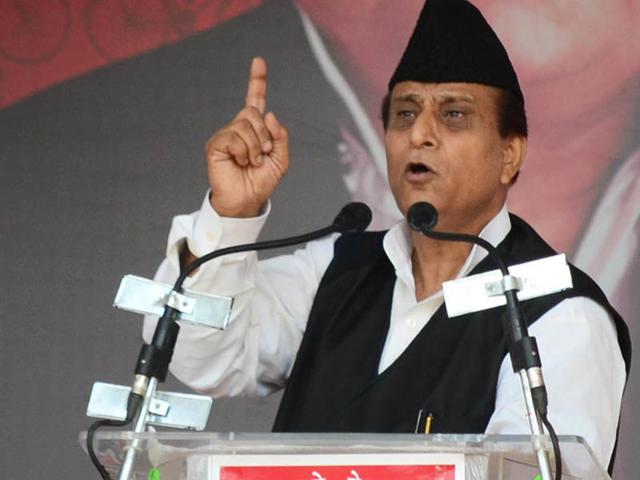 Uttar Pradesh minister Azam Khan has sparked another controversy by saying that "superpowers" should think whether the Paris terror attack was a "reaction" to the "killing of innocents" in Arab countries. The remarks have drawn flak from BJP which demanded action against Khan.
Khan, a senior Samajwadi Party leader, condemned the terrorist attacks in Paris but simultaneously raked up the issue of action by the US and Russia in Arab countries, saying "killing of innocents" anywhere is "not justified".
"Whatever the terrorists did in Paris was wrong. But, attack on Arab countries and killing of innocents there by US and Russia is also not justified," he told reporters here.
"We need to look who killed whom first, after that who retaliated. This is a debatable issue. You strike bombs through drones to kill the innocent.... History will decide who is a terrorist and who is wrong," Khan said last evening.
The Samajwadi Party leader said, "If this attack is a reaction then the superpowers must think about it. What action led to this reaction and whether their action was justified? They need to think otherwise there is apprehension that the situation will get worse. I think the world is heading towards another World War."
Reacting sharply to Khan's remarks, BJP demanded action against him and dared the Samajwadi Party leadership to make public its stand, saying it would otherwise be construed that it supports terrorism.
BJP secretary Siddharth Nath Singh said Uttar Pradesh chief minister Akhilesh Yadav "should stop Azam Khan from making such remarks".
Read | Sikh man wrongly depicted as Paris attacker, faces online hate
Terming as "unfortunate" the comments by the senior UP minister, Singh said such remarks tarnish India's image and weaken the country's resolve to fight against terrorism.
BJP spokesperson Shahnawaz Hussain said, "The language used by leaders like Azam Khan is not acceptable. It is unfortunate. IS has become the enemy of Islam. Acts of IS have shamed the Muslims world over. Time has come for the people to eliminate IS and its philosophy."
Demanding action against Khan, BJP's UP unit president Lakshmikant Bajpai said, "The Paris incident needs to be condemned as it is a slap on humanity. Azam Khan's statement on it is condemnable. Action should be initiated against him and only then will it emerge that the Samajwadi Party government is not giving protection to Khan."
He questioned whether SP chief Mulayam Singh and Akhilesh Yadav agreed with Khan's remarks. "They should make their stand public or else it would be construed that Samajwadi Party is supporting terrorism," he said.
Asked about BJP attacking him, Khan claimed that he was being targeted because he was a Muslim.
Commenting on BJP president Amit Shah's reported statement that leaders above 60 years should take retirement, Khan said going by his views Prime Minister Narendra Modi should retire.
"He (Shah) is advising leaders above 60 to take retirement. So, PM, who is now 65, should also retire and quit politics," he said.
Read | 'Low cost, high impact': Paris terror similar to Mumbai attacks
BJP had later clarified that Shah never stated in his address in Madhya Pradesh th at people should leave politics after attaining 60 years of age and claimed his comments were being "distorted" and quoted out of context by the media.
"Shah's comments on noted social worker Nanaji Deshmukh's personality, work and philosophy are being distorted and quoted out of context by media," the party statement had said.
On Modi's view that Sufi tradition is the best antidote to terrorism, Khan said Modi should return country as a "saint" and teach path of peace to the people.
Azam Khan later said his statement was taken out of context and that he had condemned the Paris attacks in the strongest terms. He said, "Just to make it sound sensational, some people are twisting my remark on Paris attacks."
Personalise your news feed. Follow trending topics