Battling past and present: UP's history of youth radicalisation
Updated on Nov 28, 2015 11:01 AM IST
As radicals refine strategy and take their propaganda online, Uttar Pradesh cops have started scanning the activities of IS sympathisers and have set up two social media labs in the state.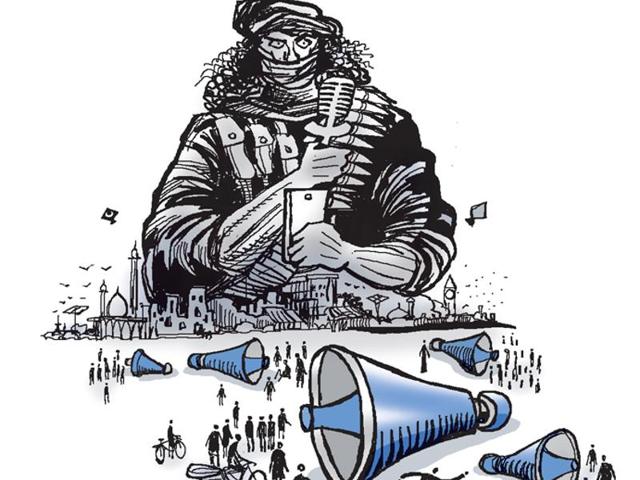 When a dreaded terrorist dies, government officials usually rejoice. But when news broke of Indian Muhajideen commander Baba Sajid's death in Syria this July, intelligence agencies were alarmed.
Sajid was said to have died fighting for the jihadist group Islamic State in Syria's Kobani town and officials were concerned he would be projected as a martyr by jihadi recruiters across Uttar Pradesh and foment communal tensions, especially in his hometown Azamgarh.
"A fugitive, Sajid was the first Muslim youth from UP to join IS ranks," said a senior police officer amid fears that IM sleeper cells across the state may hit back.
Their fears weren't unfounded. Indian Mujahideen (IM) operatives released a video on social networking sites last year, urging Muslim youths to join the Ansar-ut-Tawhid, a jihadist group based in Afghanistan.
The Ansar-ut-Tawhid recruits youths for al Qaeda and trains them in camps located on the Pakistan-Afghanistan border.
"The group might have switched loyalties to the IS after supreme leader Abu Bakr al Baghdadi called upon the radical groups al Qaeda, Taliban, Lashkar-e-Taiba and Jamat ud Dawa to merge with the IS," said a police officer.
Read | Chatting away to jihad: Hyderabad becoming hub for cyber terrorists
Youth radicalisation may have only started spreading its roots in other parts of the country but it has a long history in Uttar Pradesh, beginning with the formation of the Students' Islamic Movement of India (SIMI) in 1977.
In the next four decades, fundamentalist recruiters lured hundreds of Muslim youths and radicalised them, training them to "restore the supremacy of Islam" by waging jihad. The central government banned it in 2006. But the radicalisation hasn't stopped as terrorists have refined their strategies and taken their propaganda online.
Months after security agencies stepped up vigil, a report in October said a 28-year-old youth from Azamgarh, who went to Syria six months ago to join the IS, had called his family from Raqqa and begged his parents to help him return home.
This prompted intelligence agencies to start scanning the activities of IS sympathisers.
State police and intelligence agencies are also monitoring social media, particularly radical websites, and have established two social media laboratories.
"Under the counter-radicalisation effort, the state police will keep a watch on the social networking sites, organise counselling of youths and urge the community elders to persuade the youths who have been attracted to the radical ideology. The intelligence agencies have been also directed to watch the activities of radical groups," said DS Chawdhary, additional director general (law and order).
Authorities have also constituted a committee of influential community leaders in all districts to maintain communal harmony and convince vulnerable youths against joining radical organisations.
All these efforts are aimed at stemming the wave of violence that swept the country after the IM was formed by several radicalised youth who broke away from the SIMI.
The IM went on to orchestrate a series of bomb blasts across the country, killing hundreds of people.
But the 2008 Batla House encounter broke the IM's back.
Two of its members were killed and two others were arrested. Over half-a-dozen others, including Sajid, also known as Abu Turab al-Hindi, fled the country.
Intelligence officials arrested IM operatives Yasin Bhatkal and Asadullah Akhtar on the India-Nepal border in August 2013 and found out that the duo were planning to resurrect the IM and had organised several secret meetings in India's border districts to motivate young people to join the terror outfit.
But some of the radical elements are present right in the capital Lucknow.
A letter by a teacher at the Darul-uloom Nadwatul Ulama Madarsa – one of the country's most respected Islamic seminaries -- to IS chief Baghdadi, who declared himself 'Caliph' in July 2014, alarmed security agencies.
In his letter, the cleric praised the success of the IS in Iraq. Praying for al-Baghdadi's security, the cleric wrote, "Under your leadership, the flag of Islam will fly high."
Calling the IS chief as Ammirul Momineen (leader of Muslims), the teacher Salman Nadvi said, "I have come to know about your pure Islamic approach." But Nadvi reversed his stand a few days later, saying he never praised the IS nor urged youth to support Baghdadi.
Read | Literate and lost: Extremists scout for Kerala's educated youth
Personalise your news feed. Follow trending topics