BJP in no hurry, says Sena can join govt without pre-conditions
Updated on Oct 21, 2014 07:37 AM IST
The BJP is in no hurry to form a government in Maharashtra, hoping to wear down its former ally, the Shiv Sena, into offering unconditional support as parties began negotiations to decide who will rule the state.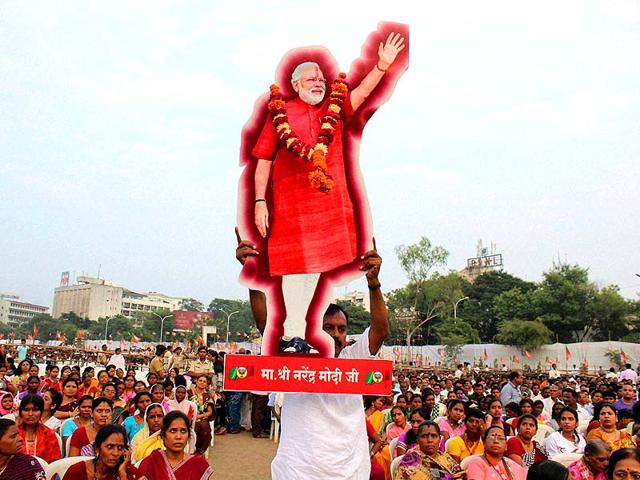 Hindustan Times |
, Mumbai
Dharmendra Jore
The Bharatiya Janata Party (BJP) is in no hurry to form a government in Maharashtra, hoping to wear down its former ally, the Shiv Sena, into offering unconditional support as political negotiations over who will rule the state gathered momentum on Monday.

Speculation swirled about whether the BJP would join hands with the National Congress Party (NCP), which has already offered outside support, or turn to the Shiv Sena, with whom it snapped a 25-year-old alliance days before the assembly election.
Read: Sena hopes for best, ready for worst
Though the BJP is 22 seats short of a majority in the 288-member assembly, it has an upper hand in negotiations with future allies because it is the single largest party with 123 seats compared with the Shiv Sena's 63 seats. However, it still needs to team up with one of the opposition parties for a majority of 145.
"Our primary aim is to run the government without the Sena's support," said a senior BJP leader. "We are in no hurry. If the Sena wants, it may join us but without any condition."

The BJP has not yet decided on accepting the NCP's offer, but it has begun talks with smaller parties and independents who together have 19 seats. Party sources said they would get the support of at least 16, taking its tally to 139. Two each from the All India Majlis-E-Ittehadul Muslimeen (AIMIM) and Samajwadi Party may even stay neutral.
All possibilities, including the extension of President's Rule or poaching a group of MLAs from other parties are also being considered, they added.
Read:Congress asked us to jointly back Sena: Sharad Pawar

The BJP kept its suitors waiting as Prime Minister Narendra Modi and party president Amit Shah met union transport minister Nitin Gadkari on Monday, sparking speculation in party circles that they wanted him to take over as chief minister.

Party MLAs are likely to meet in Mumbai on Tuesday to select their chief ministerial candidate. State party chief Devendra Fadnavis, the 44-year-old fourth-term MLA from Nagpur, still looked like a front-runner for the top job. He is seen as having an edge because he has the backing of the Rashtriya Swayamsevak Sangh (RSS) and has a clean image.
Read:RSS says it's up to BJP to decide on accepting NCP offer, Shiv Sena kept guessing
Watch:
BJP will decide what to do on NCP offer: RSS
State leaders felt the party should have an alliance with the Sena but in a revised format. Sources said the Sena has certain demands, including the deputy chief minister's position, one-third of ministerial berths with key portfolios and a promise that the BJP-led government will not split Maharashtra to create Vidarbha state.
They said the Shiv Sena wanted a plum share in government in line with a formula the two parties have had in place since the first time they ruled together between 1995 and 1999. The BJP rejected the formula and sought a deal under which the Shiv Sena will get a share based on its strength.
Under the old formula – which was also adopted by successive Congress-Nationalist Congress Party governments in the past 15 years -- the chief minister's post goes to the party with more seats while important ministries such as home, finance, rural development, public health go to the second-largest party.
"Even our MLAs want us to forge an alliance with the Sena on a condition that they do not suffer at the hands of the ex-ally's arrogant ways. Even grassroot workers from both parties who fought each other in the elections are ready to patch up in view of their old association," said a leader who is part of the state's core committee.
Also read
BJP may form govt in Haryana by October 26
Close Story
Personalise your news feed. Follow trending topics