BJP slams Congress for criticising PM's "innovative Pak diplomacy"
The Bharatiya Janata Party (BJP) on Saturday hit out at Congress for criticising Prime Minister Narendra Modi's "innovative diplomacy" with Pakistan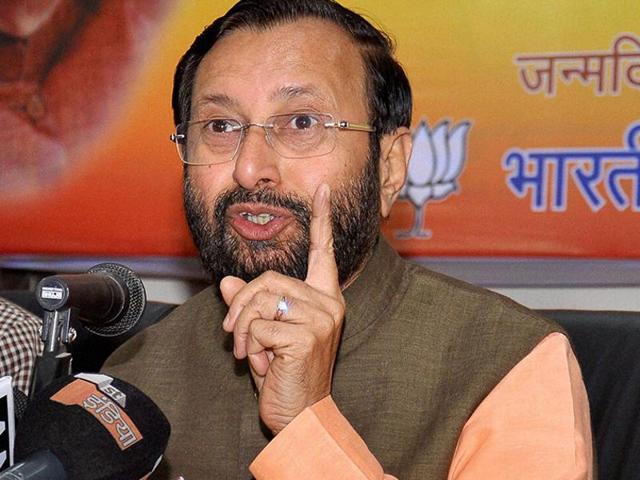 Updated on Dec 26, 2015 03:34 PM IST
The Bharatiya Janata Party (BJP) on Saturday hit out at Congress for criticising Prime Minister Narendra Modi's "innovative diplomacy" with Pakistan.
Union environment minister Prakash Javadekar took a potshot at the Congress and criticised the "mean mindedness" of Congress.
"When the whole world has appreciated this move; this kind of informal attitude and the warmth of the visit which will beneficial to the country in longer run, the rhetoric of Congress shows its mean mindedness," he said.
"The way Prime Minister Modi, yesterday gave new example of innovative diplomacy, which might have surprised the Opposition but it will benefit both the nations," he added.
BJP leader Siddharth Nath Singh also slammed the Congress for leveling baseless charges against Prime Minister Modi's meeting with Nawaz Sharif, saying, "they don't have content in their allegations".
"It is very unfortunate that the Congress Party is leveling baseless charges on Prime Minister Narendra Modi and Nawaz Sharif?s meeting and therefore they are only making rhetorics but at the same time they are lacking substance as they have no content in their allegation," he said.
Dubbing the meet as "a very successful" one, Singh said, "It is certainly not the conventional diplomacy but an out of box diplomacy, which is the requirement between India and Pakistan."
"Certainly, it will benefit both the nations as well as entire subcontinent," he added.
Singh further said that the "bankruptcy of Congress" has reached its peak, and that is why this kind of rhetoric is coming from the grand old party.
"We request the opposition to join hands with the government in pushing this relation for the betterment of the people of India and Pakistan," he added.
The Congress has attacked Prime Minister Modi for his "unscheduled" visit to Pakistan and alleged it was not for promoting India?s national interest or to take forward the roadmap to engage with it on tackling terror but to promote private business interests.
Congress also rejected claims of external affairs minister Sushma Swaraj that the Prime Minister's move was "statesman-like" and said it was "pre-arranged" by a businessman.
Close Story