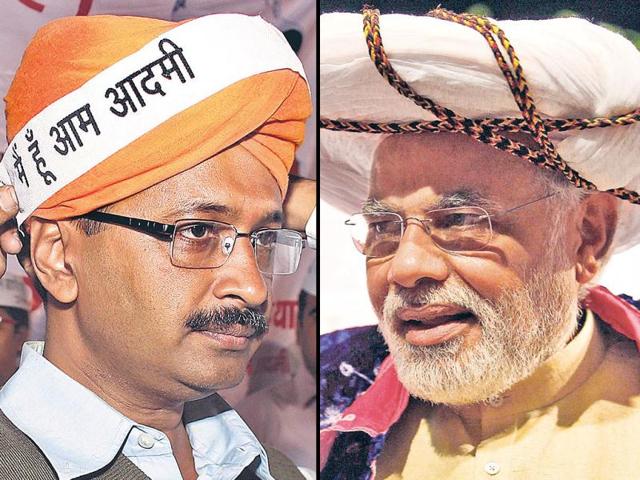 Cong welcomes Kejriwal's visit to Guj, hails him for 'exposing' Modi's development 'myth'
Congress on Thursday hailed Arvind Kejriwal's tour of Gujarat contending that there is another voice in the country exposing the 'deficiencies' and development 'myth' of Narendra Modi. Full Coverage:Modi | Kejriwal
UPDATED ON MAR 06, 2014 09:21 PM IST
Congress on Thursday hailed AAP leader Arvind Kejriwal's tour of Gujarat contending that there is another voice in the country exposing the "deficiencies" and development "myth" of Narendra Modi.
"If AAP, a voice other than Congress has been showing the deficiencies of Gujarat, exposing hype and myth of Gujarat. We welcome that Kejriwal is going to villages of Gujarat. Kejriwal is doing a job that media should also be doing. If Kejriwal is going there and finding out the truth of Modi's' claims, we completely welcome that," party spokesperson Shashi Tharoor told reporters at the AICC meeting in New Delhi.
"If Kejriwal's antics have helped draw the attention, we welcome it. We welcome Indians being well-informed before casting their votes. We want the Indian voter to be aware of the reality," he said.
Earlier on the day, escalating his attack against Modi over his development claims, AAP leader Arvind Kejriwal said he is "vikaspurush" (development man) only for industrialists.
"Modi is a vikaspurush, but only for Adanis and Ambanis," Kejriwal, who is in Gujarat to "inspect" development claims made by Modi, said after meeting farmers in Mundra taluka where Adani Port and Special Economic zone (SEZ) is located.
"Big industries in a nexus with government started acquiring lands, he alleged, while adding that "it seems that the entire land of Gujarat is on sale."
"Industries have earned so much black money that they will flee to Switzerland any day," he further alleged.
"Through media he (Modi) conspires a propaganda of development. But have you heard voices of content here? People are only talking about their agony," Kejriwal said.
Tharoor seconded Kejriwal's claims saying the situation in Gujarat is "utterly condemnable".
Tharoor said it is good if someone exposes the "reality behind the myth" that "Modi's marketeers" are propagating.
Asserting that Congress remains strong in Gujarat, Tharoor said that "no one can take away Congress' space there". To another question, he said that Congress has been in flight for last ten years and covered a long distance.
"We are ready to continue to be in the flight. Nation has to decide if they want us to continue. People will have to decide to refuel the flight," he said.
He, however, made it clear that Congress does not support the political methodology of Kejriwal-led Aam Aadmi Party.
"We have anarchy versus violence. That is not an encouraging choice. If grabbing media attention requires violence, Congress is not going to do that. This is what happens, when politics of violence counters the forces of anarchy," Tharoor said, adding, law will take its own course in incidents of violence.
AAP workers had on Wednesday fought pitched battles with BJPactivists outside the saffron party headquarters in Delhi and Lucknow hours after party leader Arvind Kejriwal was detained briefly in Radhanpur and his car damaged in an attack.
Later on Thursday Kejriwal admitted his party workers indulged in violence outside the Bharatiya Janata Party headquarters in New Delhi on Wednesday. He apologised on behalf of his party workers and said the AAP would not repeat its mistake.
"I apologise on behalf of the workers who turned violent outside the BJP office. We will not engage in violent protests in the future," Kejriwal said in Gujarat.
"The BJP is too small an entity to engage with the. We have to save the country. We can't afford to be distracted by other things," Kejriwal added.
Congress, however, condemned the clashes between BJP and AAP workers on Wednesday saying it is a case of "politics of violence" countering the "forces of anarchy".

Full Coverage:Narendra Modi | Arvind Kejriwal
Close