Cow gifted by Hindu seer gets VIP status in Azam Khan's dairy
Updated on Oct 28, 2015 03:05 PM IST
Senior Uttar Pradesh minister Azam Khan's dairy in Rampur has a novel addition - Shyama, a cow gifted to him by a Hindu seer.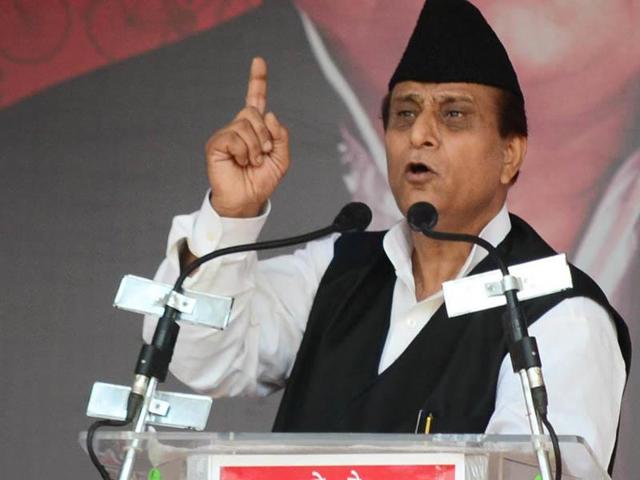 Senior Uttar Pradesh minister Azam Khan's dairy in Rampur has a novel addition - Shyama, a cow gifted to him by a Hindu seer.
Khan described the cow and her calf as 'VIPs' in his dairy, which is famous for selling pure but a touch expensive milk. He, however, told Hindustan Times he will not sell the cow's milk.
"It will occupy a place of pride in my dairy and receive VIP treatment, which I anyway extend to all the animals I rear," he said.
The minister has instructed his staff to ensure that Shyama gets a bath twice a day, is fed quality fodder and the temperature inside the dairy section, where the cow has been put up, is adequately moderated.
"After the calf has been fed, the cow's milk would be used by the minister's family," a Khan loyalist said on the phone from Rampur.
The gift has come at a time when the Bharatiya Janata Party (BJP) is claiming an increase in cases of cattle theft and cow slaughter in Uttar Pradesh where Khan is the most visible Muslim face in the Akhilesh Yadav government.
Khan was invited by Swami Adhokshjanand, whose claim of being a Shankaracharya is under scrutiny from a section of priests, to inaugurate a cow shed in Mathura a couple of months ago. That's when the minister had expressed a desire for a black cow which he could keep in his dairy. And the seer fulfilled his wish.
"You see, there is a reason why I have such high regard for Khan. Those who are aware of the legend of the black cow know the popular belief that since Lord Krishna used to drink milk from a black cow, he was dark skinned. That's why I call Khan a truly secular leader," Adhokshjanand, who is as much under attack from the saffron brigade as Khan is, said.
For his part, Khan hit out at "those who refer to the cow as their mother and don't hesitate to kill others in its name."
"If a cow is one's mother then why should it be allowed to loiter on the streets. I also wonder why the Centre's BJP government does not come out with a law not just banning beef export but also auction of dead bovines."
He added that he would pressure the central government to come out with an effective law to check cow slaughter.
"You see Muslims have for long reared cows. They love the animal. That is why I say that a cow should be buried after death instead of being auctioned and its skin and other body parts used for commercial sale. There are those who love calf leather, but say they love cows. What kind of love is this?" the minister asked.
The BJP, however, is not at all amused by Khan's cow love.
"It is nice that he has a cow in his dairy. But he must answer why there has been a sudden rise in cattle theft and cow slaughter across UP. Why is Khan silent?" asked UP BJP chief Laxmikant Bajpai.