Development, employment are top priorities: Puducherry CM designate Narayanasamy
Hindustan Times |
, Chennai
KV Lakshmana
May 29, 2016 01:04 PM IST
V Narayanasamy's name was announced as Puducherry's chief minister by the Congress on Saturday. He ensured a win for the party by whipping up a strong anti-government campaign.
V Narayanasamy will be Puducherry's chief minister, having ensured a win for Congress – the party's only victory in the recently concluded five state assembly elections – by whipping up a strong anti-government campaign.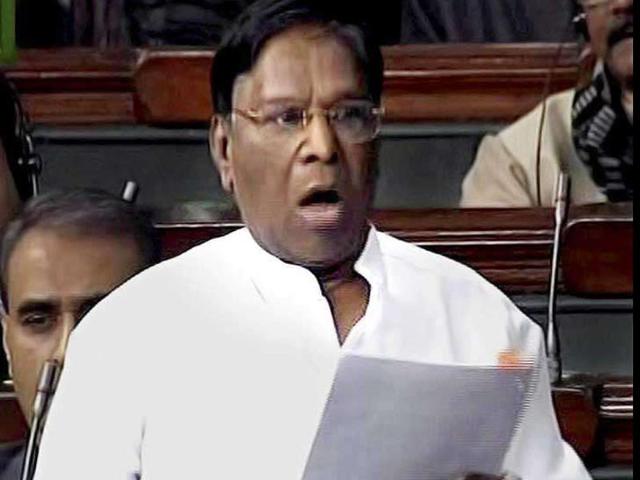 The 68-year-old is a well experienced man in government and politics, having handled party affairs in different states as All India Congress Committee in-charge.
An advocate by profession, Narayanasamy represented Puducherry in parliament earlier and was minister of state during Manmohan Singh's tenure as prime minister.
Read | V Narayanasamy named Puducherry CM despite not contesting polls
Narayanasamy however did not contest these assembly elections, and the move naming him as chief minister has caused some amount of tension within the fractured state unit. A section of the party reportedly protested the decision and went on a rampage, damaging buses.
Narayanasamy seems unperturbed though.
Hindustan Times spoke to the politician during his thanksgiving procession in the union territory.
Excerpts from the telephonic interview:
It has been a hard fought victory for you and your party. Now that you are about to assume the chief minister's office, what are your priorities?
In the last five years, the state has lost out on all fronts, with development being the biggest casualty and its resultant havoc is felt in many fields. Which is why development is the top most priority, with job creation and infrastructure building the main focus areas in the very short run.
Bringing back industries into the state – many industrial units shut down or left the state – is another major issue we will have to address. Employment generation will be among the top items on agenda as unemployment has risen in the state.
Overall, the state economy needs to be put back on rails. We are confident that with guidance from our leadership and our correct policies, we will be able to achieve all these objectives.
You won in alliance with the Dravida Munnetra Kazhagam (DMK) as your junior partner, but it did contribute to your victory. Will you be inviting the DMK to participate in the government?
This is a decision that the Congress high command and the DMK leadership have to take.
There were huge protests by supporters of Pradesh Congress Committee (PCC) chief A Namasivayam on Saturday after the central party leadership announced your name. Do you see internal party differences plaguing your government?
These are very minor aberrations that will sort out by themselves. We are together; all Congress leaders are one and act as per the high command's guidance. I do not see any problems on this count as once we get down to the job, everyone will join hands and work as one to solve the problems of the people, for which we have been elected.
On Sunday, Kiran Bedi will be sworn in as the new Puducherry governor. What kind of a relationship do you foresee between the governor and the government?
I have known Kiran Bedi ji in Delhi also and I am sure we will have a very good and cordial relations.