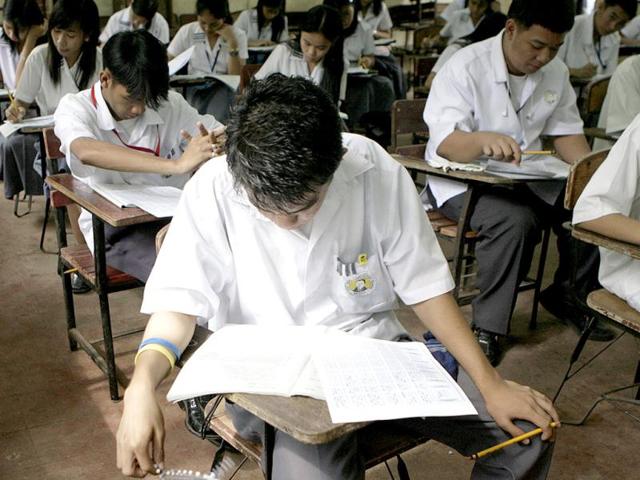 Expert advice
With just three weeks to go for the board examinations, helplines have begun to offer assistance to all those students who need guidance to sail through the exams smoothly.
UPDATED ON FEB 07, 2012 02:14 PM IST
With just three weeks to go for the board examinations, helplines have begun to offer assistance to all those students who need guidance to sail through the exams smoothly. Here are a few queries that students asked counsellors at 'Snehi' - an NGO that provides counselling to students during the Board exams.

Query: I am preparing for my 12th board exams and I've been very nervous because my father has very high expectations of me. If I don't manage to secure more than 95% in the exams, my father will not support my higher education. I spend more time dwelling on this rather than studying.
Response: Your father's pressure on you to secure more than 95% has consumed you completely. This is invariably adding to your stress levels and preventing you from concentrating on your studies. Try not to think about your father's demands. Instead spend that time going through what you have learnt over the last few months. If you have consistently performed well in your 12th standard, then maintain that record. Brooding over your father's expectations will only ruin your efforts.

Query: My teacher has been consistently discouraging me and telling me that I'm incapable of securing more than 35% in the board exams. She has consistently been discouraging, despite my best efforts. This has been playing on my mind since the last 15 days and I find it difficult to concentrate on my studies. I was a good student in school, but now I feel that her lack of encouragement can adversely affect my results.
Response: I understand that you're afraid that what your teacher has said might come true. However, if you have been a good performer in school, then you have no reason to worry. Being caught up with this will only eat into your precious study time. Your teacher's words should not have any effect on your performance as long as you put in your best efforts.

Query: My father was recently transferred to Chandigarh and I keep thinking about my previous school and friends. This has adversely affected my studies and with a few weeks to go for the exams, I find myself unable to concentrate. Please help.
Response: Adjusting to a completely new environment is always difficult. With no friends around, the situation is always tough. However, now you have almost one month's leave during which you will not have to go to school, so there is not much room of discomfort. Try and relax sometimes by doing things that you enjoy. Punctuate your study routine by taking a short break and doing something you like. That way, studying will become easier.

Query: I am very tense because I forget whatever I study. My friend has finished and started revising the syllabus and this has further heightened my tension. How do I study so that my course gets over?
Response: While your tension is justified, you have no way of knowing whether or not your friend has truly finished the entire syllabus. If you start looking what your friends have covered and you haven't, it is bound to add to your worries. Do the best that you can because comparing yourself with others will not lead you anywhere. Stick to a routine that you are comfortable with. Do some physical and relaxation exercise daily and keep enough intervals in between your study time slabs.

Query: I am preparing for the board exams but for the last two and a half weeks, I have been feeling very lethargic. The reason is a medicine that I have been taking to enhance my concentration and memory. But it is not suiting me and I always feel tired and sleepy. However, my mother insists I should continue with it. What should I do?
Response: The medicine you are taking is doing more damage than good. You must understand that medication is required only in case of a physical or mental illness. Examination stress is just situational stress and it happens to several hundred other students like you. You don't need medication to fight it. All you need to do is change your lifestyle, exercise regularly, take breaks in between your study hours, drink a lot of water, write down your prepared Responses and keep revising what you've learnt. Please tell your mother that such medication can be harmful.


Close