Friendships take a blow as politics breeds hatred on NIT Srinagar campus
Updated on Apr 08, 2016 04:37 PM IST
The ongoing hostilities at NIT Srinagar may be helping political parties garner mileage in the state, but only at the cost of irreparably rupturing inter-personal relationships on the campus.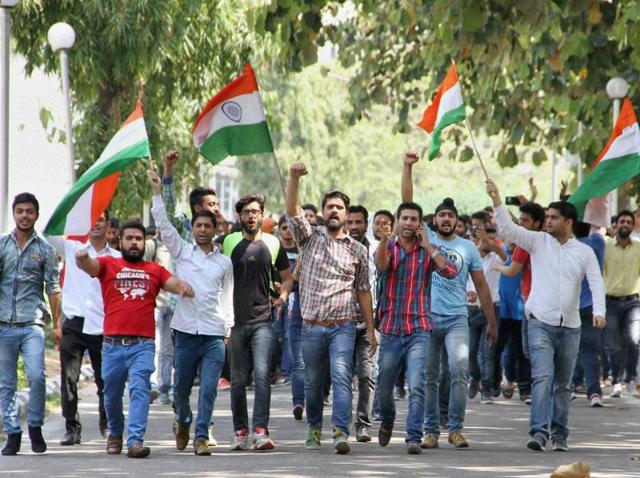 One is Kashmiri, and the other isn't.
They have had squabbles before, sometimes not sharing a word for days together. But it never went beyond that. After all, how long can two friends sharing the same room in a girls' hostel remain miffed at each other?
Soon after clashes broke out between Kashmiri and non-Kashmiri students at the National Institute of Technology (NIT), Srinagar, the two friends found themselves drifting apart again. But the chances of reconciliation seem slimmer this time, given that it was a political barrier – not a simple tiff over sleeping with the lights on – that had now come between the two friends.
Theirs is just one story in many. The ongoing hostilities at NIT Srinagar may be helping political parties garner mileage in the state, but only at the cost of irreparably rupturing inter-personal relationships on the campus.
Read: NIT row: BJP warns of reaction against J-K students in other states
Though NIT Srinagar attracts students from across the country, never before has such a massive confrontation between the two communities been reported on its campus. But some non-local students say there always was an undercurrent of tension – punctuated by minor tussles between the students – at the institution. According to them, the cricket match clash had only acted as the catalyst for a clash that was long waiting to happen.
Many non-Kashmiri students feel that ever since violence erupted on the campus, their interactions with local students have come down to a minimum. "Now it's like a cold war. We see each other, but don't talk. It's not as if Kashmiri students won't give us notes if we ask, but yes, cracks have definitely begun showing between us. Friendships have suffered," a final-year undergraduate student said.
There is also a lot of suspicion in the air, another student said. "We are avoiding an open dialogue between Kashmiris and non-Kashmiris now… somebody may say something that could be misinterpreted, leading to further clashes," he added.
Nevertheless, hope floats that the coldness among students will abate once the controversy has burnt itself out.
Read: Mehbooba Mufti faces turmoil from the word go
While those in the Kashmiri camp believe that non-local students have been maligning their image without being aware of the region's political reality, they don't think it's the end of the world either. "When so many false anti-Kashmiri statements have been made to the media and circulated on the Internet, there's bound to be some coldness in relations. But I can assure you that we are all very united in my friends circle; there isn't much discord among Kashmiris and non-Kashmiris there," said a final-year Kashmiri undergraduate.
A non-Kashmiri student also echoed the same sentiment. "What does it matter if my friend's a Kashmiri Muslim? He's my friend after all!" he said.
Kashmiri students claim that a "political hand" was responsible for the incident escalating. "We suspect that the protests are motivated by a certain political ideology," a Kashmiri student said.
Read: NIT Srinagar clashes: J-K govt orders enquiry into police lathi-charge
Meanwhile, a group of three social activists are trying to talk the students out of ruining their interpersonal relationships, careers and the campus' environment. Though Mushtaq Ul-Haq Ahmad, Muhammad Tauseef and Faizaan Bhat tried to enter the campus for alleviating the situation on Wednesday, they were denied permission. As of now, they are negotiating with leaders of both camps over the phone.
Speaking to HT, Ahmad said, "Fringe elements on both the sides are trying to vitiate the hitherto friendly environment of the campus. This will ruin their careers and affect their studies."
The activist urged "saner voices" from both sides to come forward and make a joint statement on establishing peace again.
Personalise your news feed. Follow trending topics