Google Maps search for 'sedition' and 'anti-national' leads to JNU
JNU students and teachers have expressed dismay over Google Map India giving JNU as result for searching antinational.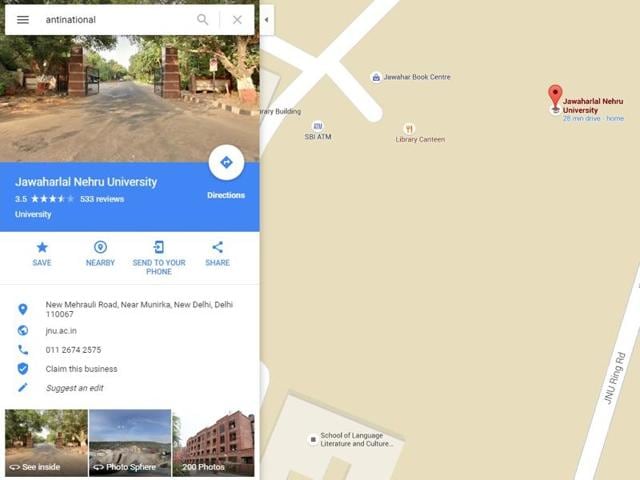 Updated on Mar 25, 2016 05:22 PM IST
If you type in the words 'sedition', 'patriotism' or 'anti-national' on Google search, do not be surprised if you receive a map suggestion that leads you to Jawaharlal Nehru University (JNU) in Delhi.
The glitch, noticed on Friday morning, irked students and faculty members at JNU. The JNU students union (JNUSU) said it would approach Google Map India to fix the search result.
"On the face of it, it looks offensive. We will contact Google authorities and find out why and how such a thing can happen. There would be some technical issues involved but we need to find out why is JNU being shown in the map for location search of anti-national," Shehla Rashid Shora, vice-president, JNUSU, told Hindustan Times.
"I don't know how this thing works on internet. But it should be corrected. JNU should contact Google and get it rectified," said Anuradha Chenoy, dean School of International Studies.
Most people however remained unaware of the search glitch.
Of those who are aware, there were some who found the whole thing comical. "It is laughable that the search engine is showing JNU in the location search for anti-national. The trolls are at work. But this should be removed as soon as possible," said a PhD student.
Read more: JNU student leader Kanhaiya gets 6 months bail in sedition case
With the flood of articles around the Kanhaiya Kumar case on the internet, keywords like JNU, anti-national and sedition have been associated to the university on the web. Google's algorithms crawl websites to optimise search queries. Thus, as more articles and text appear on the web comprising of the words JNU, sedition and anti-national, the algorithm throws up all related results when someone looks.
This isn't the first time Google Maps has suffered such a glitch. In May 2015, search for racist slur "nigger house" directed one to the White House in Washington DC as a result. "Some inappropriate results are surfacing in Google Maps that should not be, and we apologise for any offence this may have caused. Our teams are working to fix this issue quickly," Google was quick to clarify, but didn't explain why the error happened. A year later, it seems like the cause of the problem is yet to be rectified.
And in the following month, users noticed that searching for "top 10 criminals" displayed Narendra Modi in the result. Google later apologised to the Prime Minister and displayed a disclaimer when you use the search term in question:" These results don't reflect Google's opinion or our beliefs; our algorithms automatically matched the query to web pages with these images."
Read more: This is how PM Modi showed up in Google's #Top10Criminals list
A spokesperson for the tech company said Google was aware of the issue and was working on resolving it.
Logically, it would be impossible for Google Maps to become smarter if most of its functioning weren't automated. So, it 's understandable that these methods can result in erroneous assumptions that Google is finding difficult to eliminate.
Close Story