Govt issues notification for OROP implementation, veterans unhappy
Nov 08, 2015 03:29 AM IST
The defence ministry on Saturday issued the notification for implementation of One Rank One Pension (OROP) scheme. The ministry's announcement has come a day after defence minister Manohar Parrikar assured the ex-servicemen about OROP implementation before Diwali.
The government on Saturday notified the implementation of the one rank-one pension (OROP) scheme that will guarantee equal pension to military personnel retiring at the same rank with the same length of service, regardless of the date of retirement.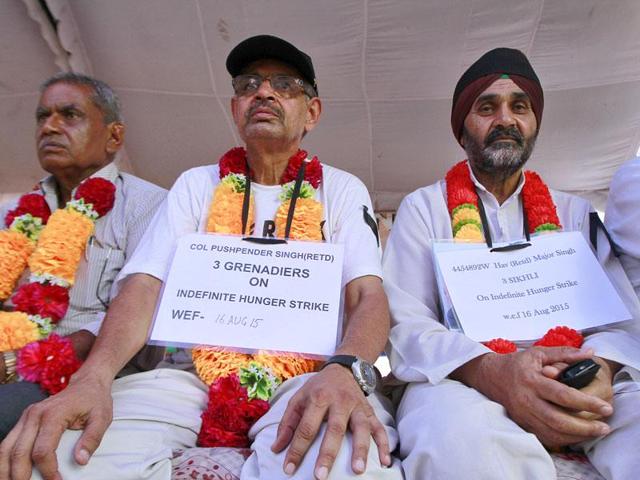 The scheme, a 40-year-old demand of military veterans, is expected to benefit three million pensioners. The notification came a day after army veterans threatened to return war honours and observe a "black Diwali" to protest against the government's failure to implement the scheme.
The government had announced the scheme on September 5. Several veterans have been holding a sit-in at Jantar Mantar for over five months to protest against the government's failure to honour its commitment.
Read: OROP: Protestors to return medals, Parrikar assures scheme by Diwali
Defence minister Manohar Parrikar said on Friday that OROP would be notified before Diwali.
However, the government's notification has failed to impress veterans who, as of now, are continuing with their agitation.
"This is not acceptable as it amounts to one rank, five pensions. It is against the definition of OROP as accepted by Parliament twice," said Major General Satbir Singh (retd), who is leading the Indian Ex-servicemen Movement.
"We will study the notification and come out with detailed comments on Sunday and also decide what course our agitation will take."
The veterans are particularly upset about OROP not being extended to premature retirees and the proposal to recalculate pensions every five years instead of annually.
"As of now, the agitation is on and veterans have not got justice from the government," Singh added.
A government press statement said the pension of past pensioners would be re-fixed on the basis of that received by retirees of calendar year 2013 and the benefit would be effective from July 1, 2014.
The pension amount would be re-fixed every five years and arrears would be paid in four equal half-yearly instalments. However, all family pensioners, including those receiving special/liberalised family pension, and gallantry award winners would be paid arrears in one instalment.
The government has also decided to appoint a judicial committee to look into anomalies, if any, arising out of the implementation of OROP.
However, personnel who opt for voluntary retirement from now on will not be entitled to the benefits of OROP. "It will be effective prospectively," the release stated.
Read: Veterans demand 'undiluted implementation' of OROP
According to the government's calculations, the scheme will require an annual payout in the range of Rs 8,000 crore to Rs 10,000 crore. It will be effective from July 1, 2014, with arrears amounting to anywhere between Rs 10,000 crore and Rs 12,000 crore.
Currently, all pre-2006 (the year the 6th pay panel report became effective) pensioners receive less pension than not only their counterparts but also their juniors. For instance, a major general who retired in 1995 draws a basic pension of Rs 30,350 but an officer retiring at the same rank after 2006 gets Rs 38,500.
Read: Retired paramilitary personnel begin stir to press OROP demand