History repeats itself for 'dentally unstable' Suarez
Updated on Jun 25, 2014 07:27 PM IST
From matchwinner to vilified sinner, the World Cup has again provided the stage for Luis Suarez's polarising career to unfurl in microcosm.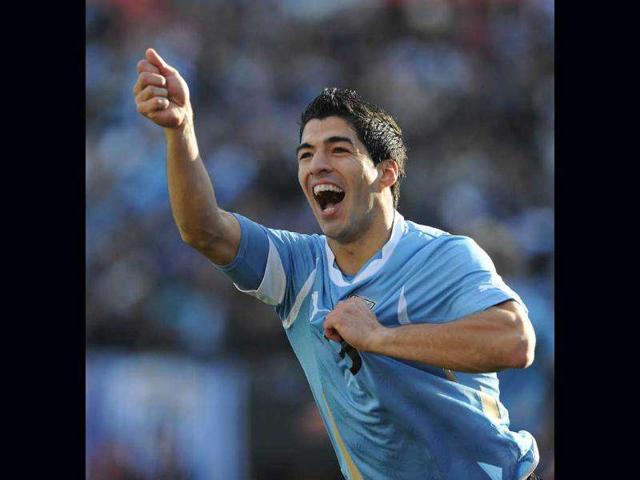 From matchwinner to vilified sinner, the World Cup has again provided the stage for Luis Suarez's polarising career to unfurl in microcosm.
Just days after the Uruguay striker dismantled England on a triumphant return from injury, the dark side of his character that bubbles under the surface, erupted in another moment of sheer madness as he appeared to sink his teeth into Italy's Giorgio Chiellini.
His team went through to the last-16, but Suarez's continued participation in the tournament is now in jeopardy.
It is a pattern of events that has repeated throughout a footballing career where the peaks have been moments of maverick ability and ingenuity that have propelled him into the stratosphere of the game's elite.
The troughs, however, have come to define him as a player and a personality and have included two previous lengthy suspensions for biting, one for racist abuse and a reputation for mastering the dark arts of diving and playacting.
It was a similar story in South Africa four years ago, where he made his name as a sharp-eyed goal-getter, before joining the tournament's hall of infamy for a goal line handball that deprived opponents Ghana a place in the semi-finals.
Fast-forward to 2014 and it seems little has changed and few lessons have been learned.
His abundant quality has never been in doubt. He has a unique ability to engineer and get the better of defenders in one-on-one situations, a deadly finish and a knack for pulling off the spectacular.
That can be lethal when combined with a streak of sheer competitiveness and a healthy distaste for defeat that gives him an almost unrivalled work rate off the ball.
"I'm one of the best players in the world, so having the opportunity to win everything - and losing only occasionally - is what drives me," he told Four Four Two magazine earlier this year.
"I'm ambitious. I want to win and won't stop until I score one, two or more goals."
The problem, however, is that these admirable qualities seem to lie behind a shameful disciplinary record.
He arrived in Brazil in the form of his life despite racing against time to recover from knee surgery that kept him out of their opening game against Costa Rica.
In the run-up to the tournament, his World Cup qualifying goals, 11 in 16 matches, helped book Uruguay's spot at the finals, while at club side Liverpool, his haul of 31 league strikes was the fuel for an unexpected title challenge that only fell away in the final weeks.
Suarez finished the season with a share of the European Golden Boot and was named Footballer of the Year by the Professional Footballers' Association and the Football Writers' Association.
RECORD-BREAKING SEASON
Yet in another micro-cycle of the Suarez saga, his record-breaking season began under the cloud of a lengthy suspension and amid accusations of brazen disloyalty.
Heading into the campaign and with the remaining six games still to serve of a 10-match ban for biting Chelsea's Branislav Ivanovic last April, Suarez tested the patience of Liverpool fans by trying to force a move to title rivals Arsenal.
The striker was ultimately persuaded that his ambitions could be satisfied at Anfield, but the will-he-won't-he saga dominated the transfer-hungry English media in the close season.
It was not the first time Suarez had found himself hogging the headlines, with question marks hanging over his character.
Before arriving at Liverpool, he was branded the "Cannibal of Ajax" by the Dutch press after sinking his teeth into PSV Eindhoven's Otman Bakkal, an offence that led to a seven-match ban.
He had been at Liverpool just 10 months when he had to sit out eight matches for racially abusing Manchester United's Patrice Evra, while an early fondness for going to ground quickly in the penalty area won him few admirers.
By alienating many neutral fans, his first seasons in England made life easy for tabloid journalists on the lookout for a pantomime villain.
This latest incident will almost certainly have the powerbrokers at his Premier League club scratching their heads in disbelief.
For supporters of Ghana, however, his greatest indiscretion was at the last World Cup where his impromptu goalkeeping skills proved cruelly decisive.
Three goals in the opening four games had helped Uruguay reach the quarter-finals.
Yet with their last-eight clash locked at 1-1 heading into the final minute of extra-time, Dominic Adiyiah headed what should have been the winner, until Suarez leapt to parry his effort to safety, earning a red card for his efforts.
It proved a shrewd move, however, as Asamoah Gyan hit the bar with the resulting penalty, as cameras panned to Suarez, who wheeled away pumping his clenched fists in celebration.
This World Cup offered Suarez the opportunity to continue his stunning season on the game's greatest stage and tip the scales towards the side of the good and away from the bad and the ugly. Instead it has further tarnished an already suspect reputation.
Personalise your news feed. Follow trending topics