Hours after scathing attack, Manmohan Singh meets PM Modi at 7 RCR
Former prime minister Manmohan Singh met PM Narendra Modi at his 7, RCR residence on Wednesday evening, hours after the Rajya Sabha MP hit out at the BJP for destroying India's democratic ethos and accusing him of corruption to divert from the real issues.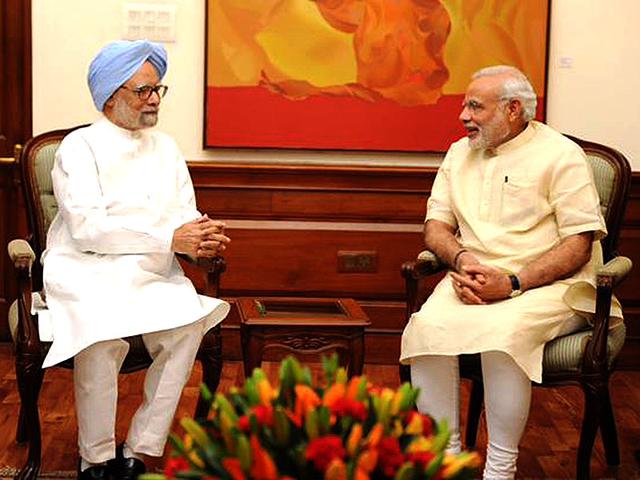 Updated on May 28, 2015 08:40 AM IST
Amid escalated political tussle between the Congress and the BJP, Prime Minister Narendra Modi on Wednesday met his predecessor Manmohan Singh to discuss the economy and foreign policy issues.
An aide of the former prime minister said that Modi had called up Singh on Tuesday for a meeting to discuss various issues.
Singh's office later issued a statement. "At the invitation of Prime Minister Shri Narendra Modi, Former Prime Minister Dr Manmohan Singh met the Prime Minister on Wednesday at 6.30pm at his residence, 7 Race Course Road. They discussed the economic situation in the country and foreign policy issues," it said.
The exclusive meeting between the two leaders lasted for almost 45 minutes. Government sources added that PM stood at the porch to receive Singh at the 7, Race Course Road office.
"Very happy to meet Dr. Manmohan Singh ji & welcome him back to 7RCR. We had a great meeting," Modi tweeted even as he uploaded two photos of their meeting.
While the Congress and other Opposition parties have remained sharply critical of the performance of the Modi government in its first year, the meeting clearly signalled PM Modi's willingness to reach out to Singh on issues of larger national interest.
Observers recalled that before assuming office as Prime Minister, Modi went to meet Manmohan Singh for his advice.
Finance minister Arun Jaitley had also acknowledged meeting Singh after the former became the finance minister.
In the BJP quarters, top leaders hold Manmohan Singh in high esteem, keeping aside the political differences.
Hours before he met Modi, Singh, however, lad launched a scathing attack on the present government and spoke about the fragility of the economy under the present government.
Singh had also underlined that when the UPA government had left office India was the second fastest growing economy in the world.

Read:Manmohan speaks out: Never used public office to enrich self
Read: Ex-PM Manmohan Singh summoned as accused in coal scam case
Read: Baijal on 2G scam: Ex-PM warned I would be harmed if I didn't cooperate
Close Story
Personalise your news feed. Follow trending topics