HT impact: Help pours in for paralysed Jharkhand teen at AIIMS
Mar 12, 2016 08:46 AM IST
Now he can go home. Good samaritans, NGOs offer to buy a ventilator for the boy who has spent 30 months in an AIIMS hospital bed.
Help is pouring in for the Jharkhand teen, Javed, admitted at the All India Institute of Medical Sciences' (AIIMS) Trauma Centre for more than two years, after HT published his story on March 7.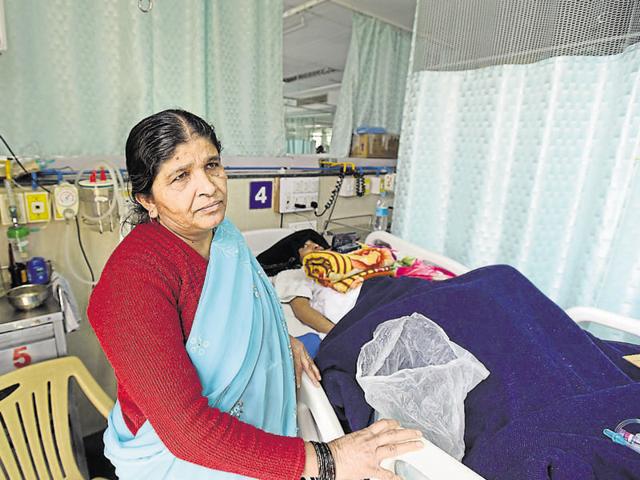 HT had reported that the 15-year-old, who is paralysed neck down, is lying on bed number 4 of neurosurgery ward at AIIMS' Trauma Centre since 2013 for want of a ventilator at home.
While some non-government organisations (NGOs) and individuals have come forward to offer money to AIIMS to buy ventilator for the boy, there are some that have offered to gift the family a ventilator.
"A lot of NGOs got in touch with us through phone and emails, offering to help this boy. In fact, the organisation that takes care of some of our non-ventilator patients in their home in Alwar, Sapna, also offered to buy a ventilator for him," said Dr Deepak Agrawal, additional professor, AIIMS.
Even though he does not need active treatment, he sometimes needs ventilator to breathe, particularly at night, which the family cannot afford to buy.
The family of seven belongs to Hazaribagh district in Jharkhand but moved lock stock and barrel since their youngest child was admitted at the trauma centre.
They don't know how he got hurt but his friends had brought him home one afternoon in a paralysed state. An MRI scan revealed severe injury to the cervical spine and local doctors referred him to AIIMS, Delhi.
At any given time 7-8 beds in the neurosurgery department are occupied with patients like Javed who don't need active treatment but because of them about 5-6 patients are turned away daily for lack of bed.
AIIMS has a Poor Patient Fund for which people can donate. Cheques can be sent in the name of Director, AIIMS and get 100% tax exemption if donating for patient care and 175% exemption if donating for research purposes.