If you knock at midnight, I will respond: PM Modi to Muslim leaders
Jun 03, 2015 05:26 PM IST
Prime Minister Narendra Modi assured a delegation of Mulsim leaders that he doesn't believe in politics that divide people on communal lines, reportedly saying he would be available to address their issues even at midnight.
Prime Minister Narendra Modi told a delegation of Muslim leaders that he will be available even at midnight to address concerns of the minority community as he sought to drive home the message that he doesn't believe in politics that divide people on communal lines.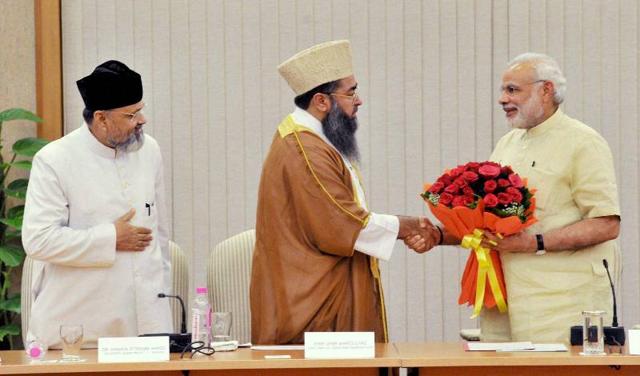 Modi discussed social, economic and educational issues related to Muslims with the 30-member delegation led by Umer Ahmed Ilyasi, chief imam of the All India Imam Organisation, which called on him on the occasion of Shab-e-Baraat on Tuesday.
During the 45-minute meeting, Modi told Iyasi that Muslims leader could approach even at midnight to discuss their concerns.
"The Prime Minister told me that his doors would be open to us even at 12 in the night to discuss any issues and concerns of the Muslims. He said, 'I give you my word, I will respond if you knock on my door at midnight,'" Ilyasi told Hindustan Times.
"Modi talks of 'mann ki baat' and we conveyed our 'dil ki baat'. When these two things come together, there is togetherness and no politics," the imam added.
Modi told the delegation that he "neither believes in politics which seeks to divide people on communal lines, nor will he ever speak communal language", according to a statement issued by his office.
He said the "politics of majority and minority had caused a lot of damage" to the country. Employment and development are the solution to all problems, and Modi said he is focused on delivering them.
Advise you not to associate yoga with any religion: Muslim leaders to Modi
Ilyasi said the delegation had conveyed to the Prime Minister the concerns of the Muslim community since the BJP-led government came to power a year ago.

"Our worries about things that have happened in the past year, which affected the Ganga-Jamuna tehzeeb, were conveyed to the Prime Minister. We hope these things will stop after the message given by him," Ilyasi said without giving details.

Since the Bharatiya Janata Party won last year's general election with a sweeping majority, several right wing groups aligned with the ruling party have targeted minorities such as Christians and Muslims. Some of these groups have targeted Muslims through their 'ghar wapsi' (conversion) and 'love jihad' campaigns.

Ilyasi said Modi assured the delegation that he is responsible for every Indian. "When Bharat and Bharatyata is strengthened, India will be united. It is in the national interest for all Indians to come together," the imam said.

The Muslim leaders said they wanted to "forge a partnership for progress and development with the Prime Minister", according to the official statement. They said Muslims had "rejected the divisive politics of vote-banks" and were interested in development.

Modi spoke of his government's initiatives in skill development and the work done by him as chief minister of Gujarat in education of the girl child and reviving the kite industry.

He appreciated the gesture of the Muslim leaders to take time out to meet him on the festive occasion of Shab-e-Baraat.

The delegation lauded the Prime Minister for "his vision of Muslim youth with a Quran in one hand and a computer in the other", the official statement said. They also congratulated him for India's success in the adoption of the International Yoga Day by the United Nations.

Feroze Bakht Ahmad, a teacher and grandnephew of Maulana Abul Kalam Azad who was part of the delegation, told the media: "It was not like the PM sat on a chair and talked to people. He met each one personally. He talked about how he considers himself a PM of every Indian, not of Muslims, Sikhs, Christians or Parsis.

"He said he would not let anybody play the Hindu or the Muslim card, but would play the India card himself…He said education is the only way to reduce communal conflagrations and he is working towards that. Every member came away with the impression that he is a strong PM who means business."

Minister of state for minority affairs Mukhtar Abbas Naqvi and National Security Advisor Ajit Doval were present at the meeting.

Parvez Ahmed, the son of late President Fakhruddin Ali Ahmed, representatives of the Quami Majlis-e-Shoora, Islamic Council of India and Ajmer Dargaah Sharif and imams from Bengaluru, Gujarat, Jaipur, Meerut and Patna were part of the Muslim delegation. Ilyasi said the Prime Minister's message will be spread through the 550,000 mosques across India and their imams.