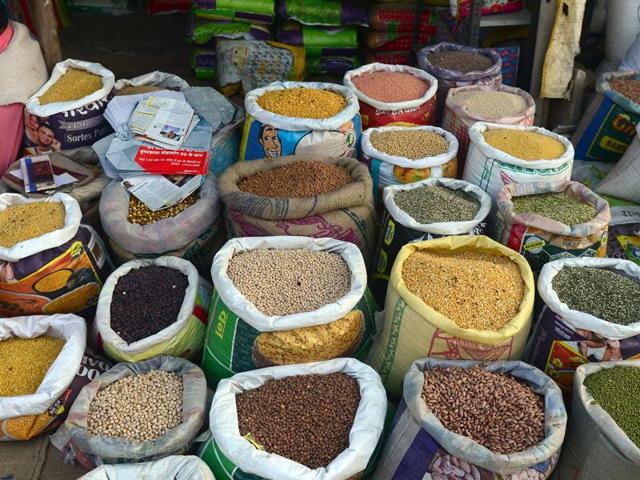 Big inflation worry: Dal prices to remain high for at least 4-5 months
As overall wholesale prices began picking up in April for the first time after 17 straight months, pulses could stoke household budgets this summer
Hindustan Times | By
Zia Haq
, New Delhi
UPDATED ON MAY 18, 2016 04:54 PM IST
India's below-average and a largely flat food production this year is sure to keep prices of pulses high, prompting the government to take a slew of steps aimed at taming prices. Yet there is widening demand-supply deficit of one of the commonest protein item on an average Indian's plate.
As overall wholesale prices began picking up in April for the first time after 17 straight months, pulses could stoke household budgets this summer. In April, retail prices of pulses rose 37%. Pulses prices were consistently high in the months until March, even though the country saw overall wholesale prices progressively dip, a phenomenon economists call deflation.
While prices of nearly all food articles have been on a decline, pulses inflation has seen the sharpest spirals in a decade.
The farm ministry's third of the four annual projections of food production shows a back-to-back drought will crimp output of rice, coarse cereals and pulses. Overall, foodgrains production is pegged at 252.23 million tonnes for 2015-16 as against 252.02 million tonnes in the previous year. This is below the peak achieved in previous years. The flattening trend is mainly because of drought.
The only crop to likely to register an increase in output is wheat at 94.04 million tonnes in 2015-16 compared to 86.53 million tonnes in the previous year.
Rice output is estimated to decline to 103.36 million tonnes from 105.48 million tonnes, while coarse cereals is likely to drop to 37.78 million tonnes from 42.86 million tonnes in the same period.
A surplus of cereals in the country will offset any reduced output in grains. However, pulses is a different story. Lentils are widely consumed and much more expensive. On the other hand, pulses and oilseeds are the only two food commodities in which India isn't self-sufficient and depends on costly imports to meet demand.
Pulses output is estimated to decline marginally to 17.06 million tonnes in 2015-16 from 17.15 million tonnes last year. But this is way short of the 27 million tonnes needed.
"Over time, supply of pulses has failed to catch up with demand. Production remained stagnant for nearly 7 years since fiscal 2004, while demand accelerated, causing per-capita availability of pulses to decline and prices to spiral," said Dharmakirti Joshi, chief economist at Crisil, a ratings firm.
The government is relying on a newly created pulses reserve to keep prices from flaring, apart from offering higher minimum support prices to encourage farmers to grow more.
The government has procured 51,000 tonnes pulses, apart from an additional 25, 000 tonnes for which contracts have been signed.
To thwart any episode of artificial scarcity, the Centre has modified trading norms. "We have asked states to impose stock limits on pulses to check hoarding," a food ministry official said. This means, depending on what a state decides, pulses traders will not be allowed to sit on stocks beyond a certain quantity so that more of the commodity is available for sale.
To overcome a consistent deficit in output, the government has tended to offer higher minimum support prices (MSP) for pulses in order to make farming of pulses more attractive. An MSP is a floor price set by the government for a given crop to help avoid distress sale and cover growing costs of farming.
In order to encourage pulses production, the government has already increased support prices for pulses by Rs 275 per 100 kg for tur and urad, two widely consumed varieties, while prices for moong, another variety has been hiked Rs 250 per 100 kg.
Close