Indian MPs root for Clinton over Trump in US presidential race
The Republican US presidential hopeful, Donald Trump may be polarising voter bases and political groups in his country, but has united MPs across political lines in India.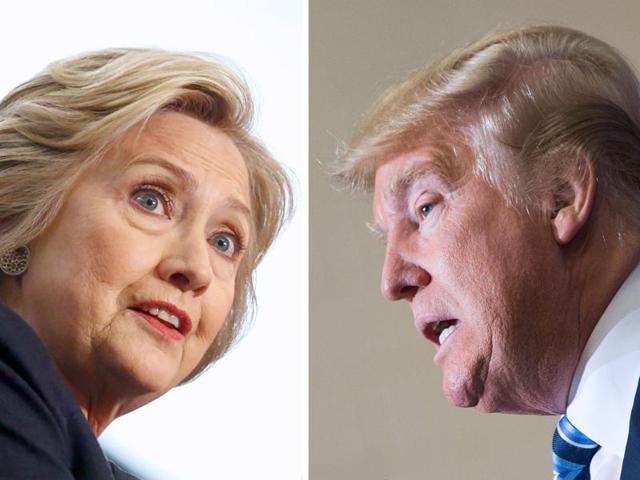 Updated on May 07, 2016 03:32 PM IST
Hindustan Times |
, New Delhi
Saubhadra Chatterji and Srinand Jha
The Republican US presidential hopeful, Donald Trump, might be polarising voter bases in his country, but has united MPs across political lines in India.
They all want him to lose.
"Forget about the world, Trump is a disaster for America," said former rural development minister and Rajya Sabha MP Jairam Ramesh. "For the sake of the US, Hillary Clinton should win. I wish so because I am more interested in seeing somebody who understands issues."
Hindustan Times spoke to MPs from different political parties after Trump became the sole candidate from his party following Ted Cruz's decision not to run for nomination.
"Donald Trump's emergence as a serious presidential candidate seems to be in line with the worldwide political trend in favour of individuals holding extremist views. We have a similar situation in India. It's very unfortunate," Janata Dal (United) leader and national spokesperson, KC Tyagi said, drawing a parallel between the American's campaign and the BJP-RSS' style of propaganda.
Read | Why a Trump presidency may be good for India
The CPI(M), which regards any US election with scepticism, found this year's run up to the White House's top job no exception. The party's politburo member, Md Salim said, "The desperation of Donald Trump clearly shows a right-wing shift in his polity amid the slowdown in the US economy. It is unfortunate but if someone takes extreme positions, he gets a clientele."
Although his party has always maintained a cautious approach in observing political developments in the US, Salim added, "Hillary may have an edge. And if we see the US polls from the Indian perspective, Hillary's capabilities, her vision have already been tested."
Read | Indian students are smart, shouldn't be kicked out of US: Donald Trump
Trump's take on Muslims has earned him no love here in India too. Referring to Trump's announcement to ban the entry of Muslims for a year till "things sorted out", Samajwadi Party (SP) spokesperson Rajesh Dixit said, "The SP does not support Trump's ideology or philosophy. His hate speeches against Muslims are unacceptable."
Biju Janata Dal leader in the Lok Sabha, Bhartruhari Mahtab, also slammed Trumps' propaganda as "a classic midland American mindset".
"They only think about themselves and don't know anything beyond American landscape."
HT tried to contact BJP leaders for their comments, but the ruling party preferred to remain silent on the issue. "We don't want to say (anything) as we are a ruling party and whoever comes to power, we have to deal with him," a BJP spokesperson said.
The Bahujan Samaj Party's spokesperson, Ambeth Rajan, also refused to comment.
Also read | Donald Trump for President, in America or in India
Close Story