Why a Trump presidency may be good for India
Mar 02, 2016 08:07 PM IST
Cartoonish though his views may seem, a Trump government in the US might be on better footing with the current Indian one than you might think
It's time to take Donald Trump seriously.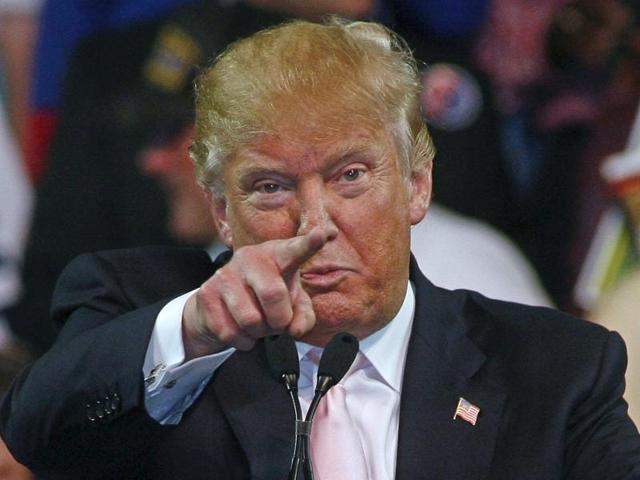 Let's face it, most of us in India have been watching him make his triumphant way through the US presidential race with the same incredulity and guilty pleasure we reserve for Bigg Boss episodes: "Did he really say that? How are they letting him get away with it? And how on earth is he going to top himself next?"
But now that he's won most of the Super Tuesday contests last night — something barely anyone would have believed possible just half a year ago — and is almost certainly going to become the official Republican Party frontrunner for the US presidential elections, you have to wonder: What happens to India if the next president of the most powerful country in the world is a man whose foreign policy sounds like it's come from a training manual for Game of Thrones characters (Don't like Mexicans entering? Build a 'great, great wall'. Suspicious of Muslims? Ban them all. Unhappy with a certain North Korean dictator? Make him disappear. Lusting after Iraq's oil? "You go in. You win the war and you take it.")?
So I'm guessing many outside the US are fervently hoping poll predictions that Hillary Clinton will easily win against him come true.
Read | Clinton, Trump score big wins on Super Tuesday
And yet, cartoonish though his views may seem, a Trump government might be on better footing with the current Indian one than you might think.
For one thing, they'd have a lot in common — both would be conservative, both suspicious of Muslims, both elected to power promising to work a miracle cure on unemployment and the economy, both banking on their leader's charisma and penchant for showmanship and rhetoric to sell the seductive idea of "making America great again" or ushering in "achche din".
Then there's the fact that Trump has expressed dislike for the countries India has the most contentious relationships with. Besides being vehemently anti-China, he's openly suspicious of Pakistan.
"India is the check to Pakistan," he once said in an interview. "You have to get India involved ... They have their own nukes and have a very powerful army. They seem to be the real check." You might recognise that as the exact approach Indian governments have been trying to get America to adopt for decades.
So that's good news for India, right?
Trump as US president would do what no US government has done before this — go tough on Pakistan's hand in terror, and unequivocally take India's side.
The problem, though, is that nobody is quite sure if that's the stand he'll take when he actually comes to office. Trump has a long history of backtracking, denying his own statements and contradicting himself. So whether his propensity for being unpredictable will lead him to take unprecedented measures to curb military and financial assistance to Pakistan's army or whether he'll forget all the talk of involving India and take a carefully neutral stance is anyone's guess.
When it comes to immigrants, however, there's no vagueness: he loathes them. The ones that flee war in Syria, the ones that cross the border from Mexico, and most significantly for us, even the ones that enter the US legally on H1-B work visas.
Read | Fight with China, repeal Obamacare: What a President Trump would do
At a campaign rally recently, he targeted India, along with other countries, for 'ripping off' the US, his comments punctuated by thunderous applause from the audience. "They are taking our jobs. China is taking our jobs. Japan is taking our jobs. India is taking our jobs." he declared. He has proposed new restrictions on the H1-B visas — bad news for India because Indian IT firms, the largest recipients of the visas, will be hugely impacted.
Let's not worry yet, though. This may just be campaign rhetoric. There are reports Trump has admitted to the New York Times that his position on immigration is flexible. His own businesses have been exposed for having hired hundreds of foreign workers at the expense of American workers. To call him a hypocrite is to underestimate his business acumen: Restricting foreign labour would hurt the US economy, and he knows it.
In the meantime, we have other encouraging signs to dwell on. Trump has already visited India, announced his enthusiasm for the Modi government and vowed to invest in big projects here. True, that was before he entered the presidential race, but if his approach as an entrepreneur influences his political strategy, it's encouraging nonetheless.
The views expressed by the author are personal.