Indian surgeon gets top US award
Pioneering robotic prostate cancer surgeon gets American Urological Association's most prestigious award.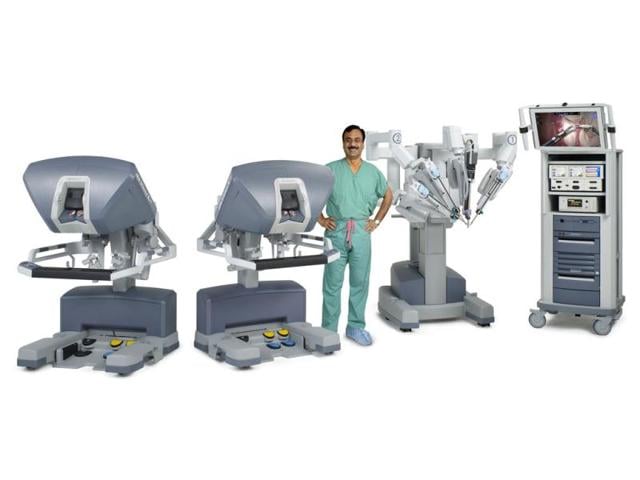 Updated on May 28, 2012 06:26 PM IST
Dr Ashutosh K Tewari, director of the Lefrak Center for Robotic Surgery at NewYork-Presbyterian Hospital/Weill Cornell Medical Center, will be awarded the prestigious Gold Cystoscope Award from the American Urological Association for outstanding contributions to the field of urology and urologic oncology.

He received the award at an awards dinner during the Association's Annual Meeting in Atlanta, US, on Saturday.
The award, presented annually to an urologist distinguished by outstanding contributions to the profession within 13 years of completing residency training, recognizes Dr Tewari for his treatment of prostate cancer and the development of novel techniques to improve the outcomes of robotic radical prostatectomy.
"This award is one of the biggest honours, but it also means a lot of responsibility, because I have the privilege of being considered in the same company where many giants of urology have been listed," said Dr Tewari, who is also the Ronald P. Lynch Professor of Urologic Oncology and professor of urology and public health at Weill Cornell Medical College. "These colleagues have done tremendous work and have shaped the field of urology. I am truly humbled."
Dr Tewari is one of the world's leading experts in the fields of prostate cancer and robotics, having performed more than 3,500 robotic prostatectomies, a surgery he helped pioneer, during the course of his career.
Using this minimally-invasive surgery tecnhique, Dr Tewari can remove cancerous prostates with the least disruption to the hammock of nerves, on which prostates sit, that control bowel, urinary and sexual functions.
Utilising an array of innovative techniques that he originated, Dr Tewari's treatment offers a cure for a majority of prostate cancer patients, including high-risk ones.
An active researcher, Dr Tewari has been published in numerous peer reviewed journals. He is currently investigating the radiological phenotype of aggressive prostate cancer using novel imaging and genomic approaches in the hopes of identifying the cause of aggressive prostate cancer.
"These achievements aren't just mine," he said. "They are cumulative outcomes from my entire team, my mentors, associates and peers who have allowed me to do things that I love doing, not to mention my family who gives me time and encouragement."
Dr Tewari received his medical degree from the GSVM Medical College in Kanpur, India, winning 18 gold medals and honors. He completed specialized training in urology from the Sanjay Gandhi Post Graduate Institute in Lucknow, India; residency training at the Vattikuti Institute of Urology of Henry Ford Hospital in Detroit, Mich.; and fellowships in urologic oncology at the University of California at San Francisco and the University of Florida at Gainesville.
He is a member of several professional societies, including the American Urological Association, Society of Urologic Oncology, Society of Laparoendoscopic Surgeons and Society of Minimally Invasive Therapy and International Quality of Life Research. He is a member of the editorial board of the Gold Urology Journal and the BJU International, as well as a reviewer for Journal of Urology, Urology and the Journal of Endourology.
He has published more than 200 peer-reviewed articles, including studies of molecular markers, neuroprotective agents, nanotechnology and novel imaging techniques for prostate cancer. He has received awards and honors from the Prostate Cancer Foundation and the American Urological Association.
Close Story