Is this anti-India? Read full text of JNU leader Kanhaiya's speech
Hindustan Times |
, New Delhi
Agencies
Feb 17, 2016 11:24 AM IST
Jawaharlal Nehru University Students Union president Kanhaiya Kumar has been arrested on sedition charges for a speech he made on February 9. Here's the full translated text of the speech, accompanied by a video
Jawaharlal Nehru University Students Union president Kanhaiya Kumar has been arrested on sedition charges for a speech he made on February 9. Here's the full translated text of the speech, accompanied by a video.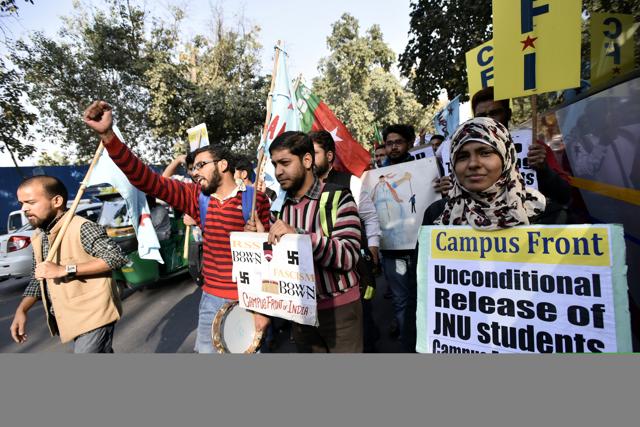 "The people who burnt the tricolor are the fans of (Veer) Savarkar. They apologised in front of the Britishers. The (Manohar Lal) Khattar government in Haryana, this government had named the airport as Shahid Bhagat Singh as he was a Sanghi. What we mean to say is that we don't need a patriotism certificate from the RSS. We don't need a nationalist certificate from the RSS. We belong to this country and we love the soil. We fight for the 80 percent of the poor population in the country. This is patriotism for us. We have full faith in Babasaheb, we have full faith in our country's constitution and we want to strongly say that if anyone points fingers on the constitution of this country, be it Sanghi or anyone else, we will not tolerate that finger.
Read more: Release Kanhaiya, our Bihar boy: Shatrughan Sinha on JNU row
But, the constitution which is taught in Jhandewalan and Nagpur, we don't believe in that constitution, we have no confidence in the Manusmriti. We, have no confidence in the country's racism and in the same constitution, Babasaheb Dr Bhimrao Ambedkar talks about constitutional remedies. Babasaheb Dr Bhimrao Ambedkar talks about abolishing capital punishment, Babasaheb Dr Bhimrao Ambedkar talks about freedom of expression, and we are upholding the same rules which is our basic right and our constitutional right, we want to uphold it. It is a matter of shame that today ABVP with the help of its partners in the media, is orchestrating this matter, diluting this matter.
"Yesterday ABVP's joint secretary said that we fight for fellowship. It feels so ridiculous to hear this. Their government... Madam Manusmriti Smriti Irani is eliminating fellowship and we are fighting for it; their government, in higher education has cut 17 percent of the budget because of which our hostel hasn't been constructed since the past four years; we din't get wifi and one bus was provided by BHEL and for that, even for fuel re-fuelling the administration has no money. The people of ABVP get pictures clicked like Devanand in front of the roller and say that we are getting the hostel constructed, we are getting wifi installed, we are getting the fellowships done.
Read more: Cashing in on JNU row: BJP plans nationalism campaign for the masses
They will be exposed if in this country, there will be discussions about the underlay. And I am proud of being a JNUite that we discuss about the underlay, we ask questions. (Subramanian) Swami says that jihaadis live in JNU, he says that the people of JNU spread violence. I want to challenge the RSS on behalf of JNU for a debate on the concept of violence. We want to question the ABVP that whose blood do you want to spread in this country? You (RSS) have opened fire with the Britishers in this country for India's independence, you have fired at the freedom fighters. In this country, when poor talks about basic food, you people fire at them, you have fired at the Muslims. When a women talks about women empowerment, you say that all five fingers are different. Women should behave like Sita (agneepariksha). In this country, there is democracy which provides equality to all be it a student, clerk, labour, farmer or even a Ambani or Adani. All have equal rights. When we talk about women empowerment,they say that we are ruining the Indian culture. We want to ruin exploitation culture, racism culture, caste culture.
Read more: Lawyer caught in court attack on journalists has BJP links?
"They have trouble when we talk about democracy, when people put blue salaam with the red salaam, when we take the name of BR Ambedkar their stomach starts paining. It is their conspiracy,they are followers of Britishers. File a case of defamation on me, I will say that their history is that they stood with the Britishers. Traitors of India are distributing patriorism certificates.
Check my mobile friends, my mother and my sisters are being abused. What Bharat Mata are you talking about if my mother and your mother are not a part of it? I don't agree with the concept of Bharat Mata. My mother is an Anganwaadi worker, our family runs on Rs 3,000/- I'm ashamed of this country because the mothers of this country are not a part of Bharat Mata. I will salute the mothers and sisters of India, salute the farmers, the labors and the adivasis. If you have the guts, say inqualaab zindabaad, say Sukhdev zindabad, say Babasaheb zindabad only then will we believe that we trust this country. You are dramatizing Babasaheb's 125th jubilee. If you have guts then start questioning what Babasaheb use to question. This country's problem is racism. Start reservation, start reservation in the private sector. A country is made of its citizens. Yesterday I was telling (Deepak) Chaurasia on a TV Debate that this is a serious time for this country. If in this country there is so much of racism, the media will not be safe.
Read more: JNU row: 3 days on, no arrests over journos attacked at Patiala House
"Few media works were saying that JNU runs on the money from our taxes and subsidies and this is right! It is absolutely right that JNU runs from taxes and subsidies but we want to put up a question- what is a university for? A university is for the critical analysis of the society's consensus. If any university fails in doing this then the country won't be formed, nobody would be a part of this country. This country won't be formed if we do not involve the culture, constitution and rights of the people. We are standing with the country, standing with the dream of what Babasaheb and Bhagat Singh had written. I want to tell all the Sanghi's that it's a shame on their government and it's a challenge for the Central government that whatever has happened in Rohit's case it will never happen in JNU. We will stand for freedom of expression. Leave Pakistan and Bangladesh, we say that we will unite the poor all over the world. We have identified the people who are against humanity. We want to expose the face of racism, the face of subjectivity, the nexus of casteism and capitalism. We want to prove what real democracy is, what real freedom is and how everybody's freedom should be in the country. This freedom will come from Parliament, the constitution, the democracy and this is why I request all of you my friends, keeping the differences in mind our freedom of expression, our constitution, for our country's unity we will be together.
"One last question before I finish my talk, who is Kasab? Who is Afzal Guru? Who are these people who today are in this situation of being suicide bombers? If these questions don't rise in these universities, I don't think there is any point of this university. If we don't define justice, if we don't define violence, violence is not only about firing, it is also about the rights not being given to the Dalits (which are in the constitution) by the JNU. This is institutional violence.
"Who will decide what is justice? When there was casteism, Dalits were not allowed to enter the temple and it was justice. When the Britishers were here, dogs and Indians were not allowed in a restaurant ..this was justice. We challenged this justice and even today we will challenge ABVP and RSS's justice. Their justice does not accommodate our justice. We will not agree to your justice, to your freedom. We will agree to the justice the day when every individual will get their constitutional rights.
It is a very serious situation, in any case JNUSU doesn't support violence, terrorism, terrorist attacks or anti-national activities.
"This question is for JNU administration and ABVP, there are 1,000 kinds of activities happening in this campus, now you listen to the ABVP's slogan carefully. They say communists are dogs... (abuse, abuse)... they call them sons of Jihaadis. In this constitution, if we have the rights of the citizens, then calling my statements from a dog isn't it a violation of constitutional rights? I have this question for the ABVP, for JNU administration that who do you work for? Who do you work with? On what basis do you work?
"This is very clear today, that JNU administration seeks permission and then after they get a call from Nagpur, they get permission.
"This process of seeking and giving permission is same as the fellowship process of giving and taking, first they will announce fellowship and then they will say that fellowship is abolished. This is Sanghi pattern, this is the pattern of RSS and ABVP with which they want to run the country and with the same pattern they want to run the JNU administration. We have a question for JNU's VC that there were posters in the campus, pamphlets were distributed in the mess. If there was a problem then JNU wouldn't have given permission. If they had given permission, then who told them to cancel the permission... JNU administration should clear this question. Listen to the reality of these people, don't hate them because we cant hate... I pity them. They think the way Gajendra Chauhan is sitting, the same way Chauhan, Diwan and Pharmaan will sit.