Tanzanian woman was not stripped, attack not racist: Karnataka min
Updated on Feb 04, 2016 05:03 PM IST
An attack on a Tanzanian woman and her friends last week in Bangalore was not a racist assault but a fallout of an altercation after a road accident, the Karnataka home minister said on Thursday.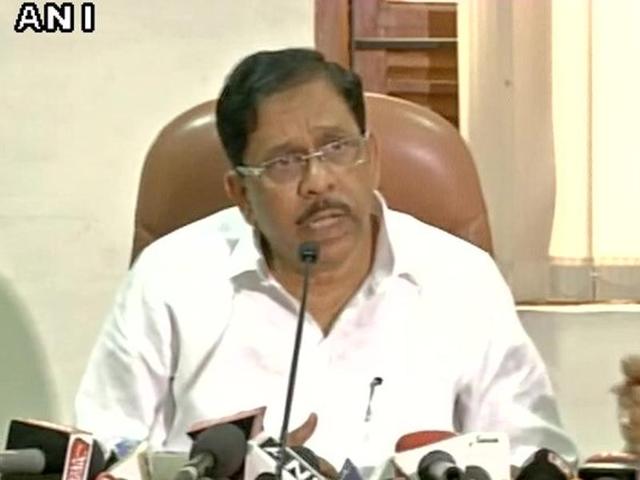 The alleged assault of a Tanzanian woman in Bengaluru was not a racist attack but the fallout of an earlier road accident, the Karnataka minister said on Thursday, as the state government launched a damage-control exercise to quell a brewing political storm. He also refuted the woman's allegation that she was stripped by the mob.
The home minister of the Congress-ruled state G Parmeshwara also told newsmen that there was no delay by police in taking up the case which took in a city with a history of racial attacks.
Read more: Bengaluru police ask Tanzanian woman to switch off phone, not comment
The 21-year-old Tanzanian student – who was not identified -- was allegedly assaulted and stripped by a mob on the outskirts of Bengaluru on late on Sunday night, shortly after a Sudanese man mowed down a woman in the same area.
Police have arrested five people in connection with the attack. The city police chief has said the woman victim had reported an assault but denied that she had been either stripped or paraded on the streets.
Read more: Tanzanian student assault: 5 arrested; Rahul seeks report from Karnataka
"There are 12,000 foreign students in Bengaluru, their protection is our duty. These kinds of incidents should not happen," he said adding that the foreign ministry have been apprised of the incident.
Watch | Karnataka Home Minister says attack on Tanzanian student not racist
The High Commission of Tanzania also sent a 'note verbale', a diplomatic communication short of a formal letter of protest, to the Indian government over the incident.
"Some people in India have a racist attitude towards Africans. This is not the first instance of discrimination," John WH Kijazi, the Tanzanian high commissioner to India, told CNN-IBN.
He, however, added it was not right to call all Indians racist.
Meanwhile, Congress vice-president Rahul Gandhi has asked the state government to explain the incident and send the report immediately.
Congress general secretary Digvijay Singh on Thursday confirmed the news on his official Twitter account.
The BJP dubbed the reaction of Congress vice-president Rahul Gandhi as a "political stunt" saying that the former is a seeking report only after seeing media reports on the issue.
"The law and order situation in Karnataka is really bad. These kinds of incidents are taking place time and again. This is not the first time...It is nothing but a political stunt," BJP leader Zafar Islam told ANI
Earlier on Wednesday, external affairs minister Sushma Swaraj described the attack as "shameful" and expressed deep pain over the incident.
Read more: Bengaluru: Tanzanian woman beaten, paraded naked after road accident
This is not the first time those viewed as outsiders by some local residents have faced attacks in the city.
In March last year, four African students were badly injured in a scuffle after some locals objected to them entering a bar.
More than 30,000 people from the Northeast fled Bengaluru in August 2012 after a handful of attacks sparked rumours of a larger conspiracy.
I.
.
Personalise your news feed. Follow trending topics