Kerala: Why Malappuram district has no faith in vaccination drive
Updated on Jan 01, 2016 07:00 PM IST
Clerics, fringe groups convince Muslims that vaccines are West's creation.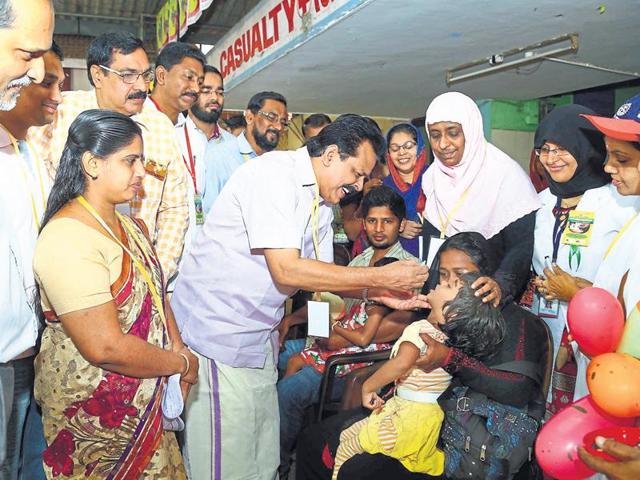 As his son lies unconscious on a hospital bed in Tanur, a poor father pins his hope on faith. Infected with diphtheria, doctors say the boy is still in danger. Yet, the father desists from administering his child with a much-needed injection.
In the neighbouring village of Vettom, Abdul Khadar, a priest with a local mosque, lost his eight-year-old son four months ago. "Allah has taken his life," the distraught father says, resigned to his fate. The fact that two harmless shots would've saved his son is something Khadar is not willing to believe.
Not just them; there has been a sudden rise in mistrust for vaccinations in the Muslim-dominated Malappuram district, threatening to see a rise in diseases, including eradicated ones like polio.
Taking cue from fundamentalists in Afghanistan and Africa, cleric and fringe elements have seemingly convinced unsuspecting, lesser informed Muslim people in the area that vaccines are an instrument of the west being used to shrink the community. So strong is the movement that there was even an open campaign against immunization drives.
"We were bluntly told by the local cleric that unnecessary vaccinations will affect fertility of kids when they grow up. So we are scared to administer them," said K Abubaker Koya, a father of four.
"Like how purdah (veil) became common, some of the mahal (mosque) committees tell us regularly that these injections/oral drops are anti-Islam," said another father whose son is afflicted with yellow fever.
The situation came to light following the death of two children in six months from diphtheria, a bacteria-induced disease that had almost disappeared from the state. At least two dozen children have been admitted in various hospitals.
The district administration says two powerful outfits – Jamaat-e-Islami and a Sunny sect of Kanthapuram Abubaker Musaiar, an orthodox leader, are behind the campaign. However a spokesman of Jammat denied the group was involved, stating that it was up to parents to vaccinate their children.
Some of the circulating misinformation states that vaccines are derived from animal tissue and pork-based gelatin, making it 'haram' (forbidden). Islam propagates the consumption of 'halal' products where an animal is bled to death while invoking Allah's name.
While educated families who skip the government-sponsored vaccination drives can afford to go to private hospitals for treatment, many of the district's poor are facing the brunt of the campaign. Poor hygiene compounds the problem.
Health officials worry that other diseases may also resurface in strength. Under the central government's universal immunization programme, 10 diseases are covered – polio, diphtheria, pertussis, measles, tetanus, mumps, rubella tuberculosis and hepatitis A and B.
"We have been warning the government for some time but it remained passive. Diphtheria deaths were a real eye-opener," said IMA state secretary, Dr A V Jayakrishnan.
State health ministry statistics indicate that in the district, 35% of children aged between one and five and 20 per cent between seven and 16 have never been administered a vaccine whereas the rest of the state immunization rate is well above 90% in both categories.
The Indian Medical Association has also written to the state government asking it to start a vigorous campaign to break the taboo before eradicated diseases become a problem again. India was only last year declared polio-free.
"We are facing a peculiar situation here. Normally the vaccination age is 0-5 but in Malappuram the age-group is 0-16. In this group, almost one lakh children are still out of the immunization purview," district medical officer, Dr Ummer Farook said, adding that authorities are forced to administer a high-dosage.
Kerala currently boasts of a robust health record with the lowest infant mortality and highest life expectancy rates in country.
"We are going all out to immunize the district in two months. Under the centrally-sponsored programme 'Indra Dhanush' the drive is getting good response," said State health minister VS Sivakumar.
Personalise your news feed. Follow trending topics