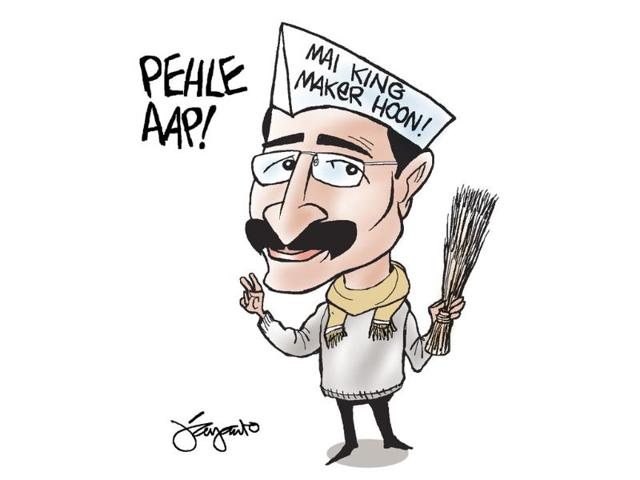 Left and AAP: So much in common, yet so far apart
Both the Left and Kejriwal are opposed to "crony capitalism". Both are committed to high standards in public life and have a no-nonsense approach towards corruption. Top leaders of both parties are known for not getting swayed by power. Read: Come to us on deputation: AAP tells CPI (M) leaders
Hindustan Times | By Saubhadra Chatterji & Brajesh Kumar
, New Delhi
UPDATED ON MAR 03, 2014 11:24 AM IST
The political ringtone of the CPM-led 'Third Front' in this poll season is clearly "har ek friend zaroori hota hai (every friend is necessary)".
But even as CPM chief Prakash Karat is sincerely trying to bring together the non-BJP, non-Congress forces under one roof, Arvind Kejriwal's AAP has so far received a cold shoulder.
From Kejriwal's side too, there has hardly been any overture towards this Left-led Front, although it has approached individual CPM leaders -- including former Kerala chief minister VS Achuthanandan -- to join AAP and contest the polls.

Read: Come to us on deputation: AAP tells CPI (M) leaders
A senior CPM leader told HT, "They think we are all part of the establishment and only they are the crusaders against corruption," indicating that this extreme position of AAP is a deterrent for a smooth working relationship
Forward Bloc leader Debabrat Biswas added, "AAP is yet to show signs of long-term survival."
The irony is that the Left and the AAP have more in common than the Left and its other disparate partners — say, Mulayam Singh Yadav's SP or Naveen Patnaik's BJD.
Both the Left and Kejriwal are opposed to "crony capitalism". Both are committed to high standards in public life and have a no-nonsense approach towards corruption. Top leaders of both parties are known to stick to a very simple lifestyle and not get swayed by power.
Last month, Karat had written, "The success of AAP, as against the Congress and the BJP, is a positive development. The involvement of a normally apolitical middle class and attracting the youth to political activism with idealism is a singular achievement."
On the other hand, AAP's affinity with the Left school of thought is palpable among the party's new recruits.

Read: Medha Patkar's best bet yet: Aam Aadmi Party
Social activist Medha Patkar and Kamal Mitra Chenoy — a professor at Delhi's Jawaharlal Nehru University who had been the member of the CPI for the past 20 years — joined AAP last month.
"When you are looking at people with honest intentions and simple lifestyle, you find such people aplenty in the Left parties," said an AAP insider.

Read: Corruption plagues the CPI(M) too
Close