After huge win, Mamata to start new term under mountain of debt
The enormity of the debt West Bengal is burdened with will keep gnawing at Mamata Banerjee's brains as she takes oath as chief minister on Friday.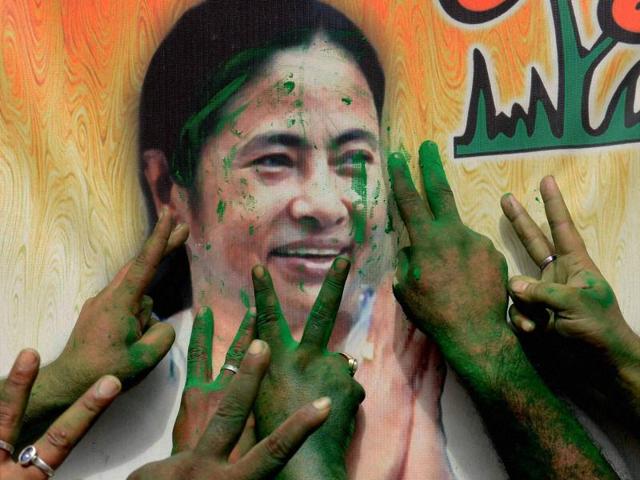 Updated on May 27, 2016 03:28 PM IST
A Rs 1,000 note, the largest denomination issued by India, is 17.7 cm long. You will need 3.05 billion such notes to pay off the total debt of the West Bengal government. If one puts those many bank notes end to end, it can reach the moon from the earth and return 40% of the distance.
The length of the notes can also go round the earth's equator more than 13 times.
If these comparisons are mind-boggling, remember that these numbers convey the enormity of debt that will keep gnawing at Mamata Banerjee's brains as she takes oath as chief minister on Friday.
She also has a few other things like attracting investments and getting a grip on the law and order situation on her agenda, but nothing will be a bigger immediate constraint than the fiscal problem.
It is quite disturbing to suggest that debt obligations will consume 77% of a government's own tax revenue, or worse, that the amount it spends on debt repayment will be 3.5 times what it spends on building income-generating assets such as roads, power plants, irrigation canals, transport systems, etc. But that's precisely what happened in Bengal in 2015-16.
Significantly, Mamata Banerjee's brand of politics thrives on generously loosening the purse strings.
Read: How Mamata Banerjee scripted the decimation of Left in West Bengal
In the first term, she tossed criticisms out of the window to spend on grants to neighbourhood clubs, fares concerning almost everything under the sun apart from politically prudent projects such as giving cycles, shoes, doles to girls. She also spent a lot on roads, electrification and water supply. They have paid off handsomely, and it is quite likely the chief minister will not abandon the successful formula. This is precisely where the huge debt repayments will hurt.
The debt obligation can come in the way of building more hospitals and schools, and appointing doctors and teachers in those already built.
It will halt building new roads, digging new tubewells and providing assistance to farmers and unorganised labourers, sections close to Mamata's heart.
The government paid Rs 33,067 crore towards clearing the debt last year which was stood at Rs 3.05 lakh crore. It will rise to 36,869 crore in the next (2016-17).
Mamata will perhaps continue to incur the wrath of the government employees who lag behind their central counterparts by as much as 50% in DA payments.
Significantly, experts warn that the crisis will reach a crescendo before the current term of the government ends in 2021 as the market borrowings, typically 10-year loans, will mature for payment of the principal amount.
Since she assumed power on May 20, 2011, Mamata has been acutely conscious that the debt will become the millstone around her neck.
For the first three years after taking over, the chief minister met all those who mattered at the Centre –Prime Minister Manmohan Singh, finance minister Pranab Mukherjee and planning commission deputy chairman Montek Singh Ahluwalia – to extract a fiscal relief package, the principal element of which was a three-year moratorium on interest payments and a debt recast. She met each of them a number of times, badgering them with her demands. Her key argument: The profligate Left government left her under a mountain of debt that was close to Rs 2 lakh crore, and she was being unfairly penalised. But each time she was refused with the finance ministry arguing that the Constitution does not provide for discretionary powers that can be used to bestow interest moratorium on a single state.
Read: Ex-cricketer Laxmi Ratan Shukla among new faces in Mamata's 42-member cabinet
After the change of guard at the Centre in the summer of 2014, Mamata renewed her quest for fiscal breather, but so far the search has been fruitless despite senior ministers such as Rajnath Singh publicly saying they will consider her demands sympathetically.
Critics have pointed out that in her second term, the chief minister cannot just go on pointing fingers at the Left for the fiscal mess. According to the budget estimates presented to the assembly by Amit Mitra, the debt will stand at Rs 3.34 lakh crore at the end of the current financial year, which means in six years, the Trinamool government's contribution to the debt figure is about Rs 1.34 lakh crore. (It was about Rs 2 lakh crore in March 2011, when the Left went out.)
The Reserve Bank of India suggests, as a classical measure, to improve tax revenue and bringing down non-plan expenditure. But with Amit Mitra improving the tax revenue considerably in the past five years, there are hardly any easy options left on that front.
Close Story
Personalise your news feed. Follow trending topics