'No minister has done anything illegal': Govt sends message to Oppn
Updated on Jul 20, 2015 05:09 PM IST
PM Narendra Modi said on Monday at an NDA meeting that the government should go ahead with a controversial land acquisition bill in the monsoon session of Parliament. The session, which starts Tuesday, is set to be stormy as the opposition will target the ruling BJP over a series corruption allegations against some ministers and leaders.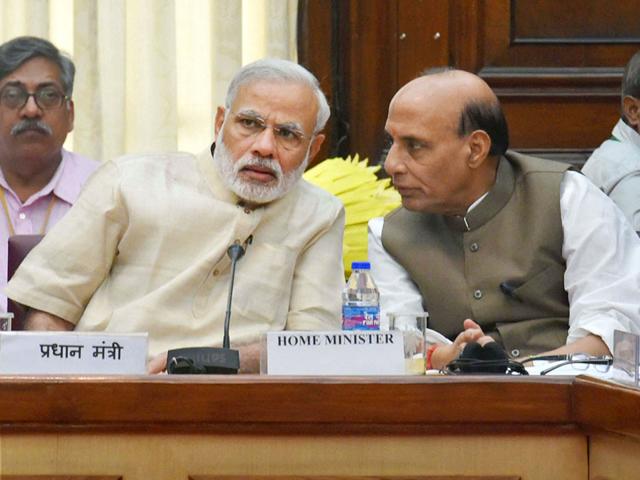 Parliament is set for a stormy monsoon session after an all-party meeting ended in deadlock on Monday over the Congress demand for the resignation of foreign minister Sushma Swaraj as well as the Madhya Pradesh and Rajasthan chief ministers.
The opposition has been pushing for Swaraj and Rajasthan chief minister Vasundhara Raje's resignation since controversy erupted over their alleged help to former IPL chief Lalit Modi to get UK travel papers when his passport was revoked. Madhya Pradesh chief minister Shivraj Chouhan is under fire over the multi-crore examination and recruitment scandal in the state.
But the government has consistently refused to accept the opposition's demand for them to quit.
"There is no question of accepting ultimatum by anybody. From where did the question of resignation arise? Nobody can dictate terms to the government. From the government's side, no Union minister has done anything illegal or immoral," said parliamentary affairs minister M Venkaiah Naidu.
Read: Centre likely to re-promulgate land ordinance for record 4th time
Prime Minister Narendra Modi reminded parties that smooth running of Parliament was the "shared responsibility" and appealed to them to use Parliament time to discuss all issues.
The NDA government is hoping to push two key reform-related bills – the land acquisition and the GST bills – in the monsoon session starting Tuesday, but is likely to run into rough weather, especially on the land bill which the opposition sees as anti-farmer.
"There are many outside forums where various issues are discussed extensively. The monsoon session is short, hence the time of Parliament should be used for debating issues which are relevant and important," said the Prime Minister.
But the Congress strategy is to block Parliament proceedings to force the resignation of Swaraj, Raje and Chouhan. Leader of opposition in the Rajya Sabha, Ghulam Nabi Azad, insisted the resignation of ministers should take place for smooth running of the House in the monsoon session and accused the government of having a "thick skin" on issues of corruption.
The Congress also demanded a statement from the Prime Minister in Parliament on the Lalit Modi controversy and the Vyapam scam.
But some opposition parties felt a washout of Parliament was not a solution.
"This is not correct. Parliament will run but government must allow discussion," JD(U) president Sharad Yadav said when asked about the Congress's stand.
Forty-two leaders from 29 parties -- including the Congress, JD(U), SP, BSP, RJD, DMK, Left bloc and NDA allies, representing both Houses of Parliament -- attended the two-hour meeting. There was no representative of the Trinamool Congress and AIADMK at the meeting..
Read
Stormy monsoon session ahead, PM Modi calls meeting of NDA parties
Remove Sushma, Raje and Chouhan for smooth parliament session: Cong
Close Story
Personalise your news feed. Follow trending topics