PM Modi may dole out gifts for Bihar ahead of assembly polls
Updated on Jul 19, 2015 02:47 PM IST
BJP strategists say that the PM's basket of goodies are carefully designed to take the sheen out of Bihar chief minister Nitish Kumar's achievements and match or outstrip it in public estimation.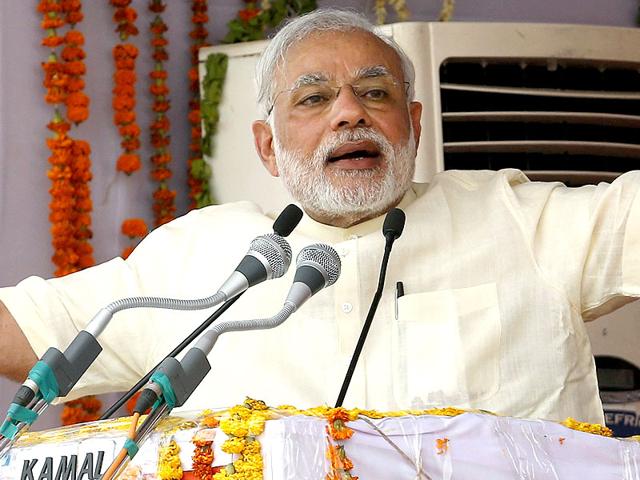 Hindustan Times |
, Patna
Ashok Mishra
Is Prime Minister Narendra Modi about to act as Santa Claus when he visits Bihar on July 25?
His cabinet ministers say, 'he promises much'. Some say, Union finance minister Arun Jaitley is finalizing a package deal for the state as per a promise he made to the Bihar diaspora in New York recently. In other quarters, this special package has been estimated to be as big as Rs 1 lakh crore.
But would it be a bundling of pending projects, or cleverly strategized electoral basket meant more to please and retrieve some ground in the run up to the assembly polls likely in September-October?
BJP strategists say, the PM's basket of goodies are carefully designed to take the sheen out of chief minister Nitish Kumar's achievements and match or outstrip it in public estimation. It will also address some priority sectors, as Union minister for agriculture, Radha Mohan Singh put it.
As the BJP game plan is to draw a bigger line than Nitish Kumar in the competitive development politics, it may announce special financial assistance to Bihar on the pattern of Andhra Pradesh to give a push to its development process as opposed to Kumar's demand for special state status to the state.

Sources said, a slew of new projects driven by government funding, public sector spend and private investment has been planned for Bihar, the next battleground for the BJP, which wants to regain the momentum after its debacle in Delhi.
The Bihar package is likely to include major projects like a 4000-MW ultra-mega power plant, expansion of the Indian Oil refinery and revival of the fertilizer factory at Barauni, a new bridge over Ganga near Mokama and a concrete action plan for the pending Madhepura electric locomotive factory.
The ultra-mega power project is aimed at emphasizing the alleged "failure" of the Nitish government in ensuring uninterrupted power supply. Kumar had promised that he would not ask for votes if he failed to improve the power situation.
Another gift to Bihar would be an AIIMS-like institution proposed somewhere in north Bihar, hitherto a bastion of the RJD-JD(U) combine. It will be the second such institute in Bihar, with Patna already having one promised by the NDA government led by the then Prime Minister Atal Bihari Vajpayee in 2004.
With a focus on promoting tourism in Bihar, the BJP is likely to include projects like expansion of the Patna airport and full-fledged development of the Bodh Gaya international airport to attract domestic as well as foreign tourists to the state. This would erase the impact of Kumar's projects for the Buddhist circuit and a new airport at Fatuha.
Besides, schemes for the development of roads and other related infrastructure facilities along the Ramayana and Buddhist circuits are expected to be part of the Bihar package.
"The region falling along the Ramayana, Buddhist and other religious circuits like Gaya, Vaishali and Chamaparan are traditional Saffron bases and the BJP expects to consolidate them, while cutting into Kumar's Karmabhoomi", a BJP leader said.
The BJP may also announce a comprehensive plan for the development of ruins of the old Vikramshila University and set up another central university on the pattern of the Nalanda University to underscore Bihar's obsession with Kumar's own constituency of Nalanda.

Besides, it may announce development of Motihari and Nalanda as educational hubs with agriculture universities.
The BJP is also looking to push more rural roads and highway projects, setting up food parks, rural broadband connectivity, and software technology parks at Bhagalpur and Darbhanga, besides electronic and digital clusters.

Reacting to the PM visit, Nitish Kumar said that people were eagerly waiting to see what kind of package the Prime Minister would announce for the state.
"It is to be seen what kind of package he announces or whether he gets away with cosmetic packaging," Kumar said.
Close Story
Personalise your news feed. Follow trending topics