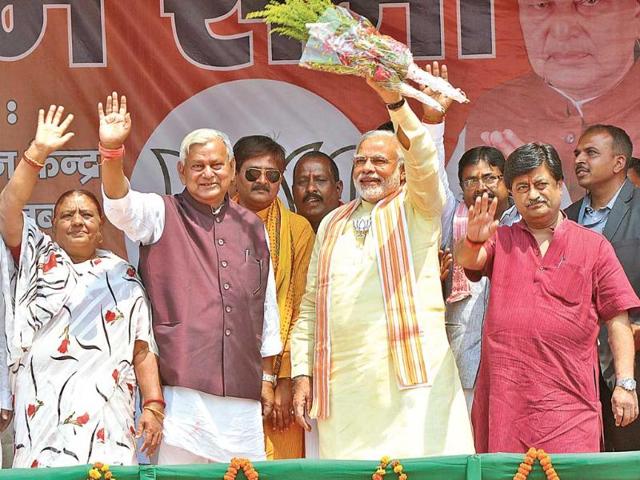 PM Modi wraps up Nepal visit, assures help to bolster ties
Modi's two-day visit, first by an Indian prime minister in over 17 years, has been hailed as a milestone that would take the tenuous relations between the two neighbours to new heights.
UPDATED ON AUG 04, 2014 10:51 PM IST
Focus on the interests of your country, Prime Minister Narendra Modi told Nepal's political parties on Monday as he ended his two-day visit to the Himalayan nation.
"Think not about your party's interests," he told leaders of the country stalked by political instability.
Modi's two-day visit, first by an Indian prime minister in over 17 years, has been hailed as a milestone that would take the tenuous relations between the two neighbours to new heights.
Interacting with leaders of Nepal's major political players, Modi once again assured of India's non-interference and agreed to provide all help if sought.
Nepal is in the process of drafting its new constitution. Squabbles between parties on issues related to governance and federalism led to dissolution of its first constituent assembly in 2012.
In their separate meetings with Modi, Nepal's leaders - both from the ruling and opposition camps - assured they were committed to promulgating the new constitution within a year.
"We are committed to formulate the constitution on time, but we need India's cooperation for economic development," said Rajan Bhattarai, senior leader of the ruling Communist Party of Nepal (Unified Marxist Leninist).
Modi held a series of meetings with all major political stakeholders and business leaders, and assured them of India's support in the country's development.
"The feedback (of the visit) has been extremely positive as far as we are concerned," Syed Akbaruddin, spokesperson for ministry of external affairs, told mediapersons before Modi's departure.

The visit witnessed resumption of political dialogue between the neighbours at the highest level and also helped bridge the trust deficit which Nepal feels existed due to so-called neglect by the two back-to-back UPA regimes.
Earlier on Monday, Modi paid a visit to Pashupatinath Temple and made an offering of 2500 kilos of sandalwood. He also conducted special prayers at the shrine.
It was followed by a meeting with Nepal's president Ram Baran Yadav at Shital Niwas, the official residence of Nepal's head of state. Yadav also organised a lunch for Modi.
The Indian PM left most of Nepal 'spellbound' on Sunday and 'touched hearts and minds' with his address to Nepal's parliament that made headlines and set social media abuzz.
India announced a fresh line of credit of $1 billion for development of infrastructure and energy in Nepal. Two MoUs related to goiter prevention and cooperation between Nepal Television and Doordarshan were also signed.
There was agreement on setting up Pancheshwar Development Authority and finalise detailed project report (DPR) of the 6,000 MW hydro-power project on Mahakali within a year.
"The substance of our discussion focused on cooperation, connectivity, culture and Nepal's new constitution (which is being drafted)," said Akbaruddin.
Read: PM Narendra Modi visits Pashupatinath temple, offers 2,500 kg of sandalwood

Nepal's government and political leaders assured that they are for cooperation in the power sector and that Nepali soil won't be allowed to be used for anti-India activities.
"India will move at a pace and in a manner in which Nepal is comfortable," the spokesperson said, while commenting on why the power trade agreement and power development agreement on the 900 MW Upper Karnali project were not signed during Modi's visit.
Modi reassured Nepal's leaders that India was willing to review any aspect of the 1950 treaty of peace and friendship between both nations, which Nepal feels needs to be reviewed.
"Prime Minister indicated that it is not India's intention to interfere in Nepal's internal processes. He urged every political party to work together," said Akbaruddin.
Close