Team set up to dispose of corpses in Uttarakhand
A 200-member team comprising policemen, forensic experts, mountaineers, fire fighters and helpers will be headed for Kedarnath to unearth thousands of bodies buried in debris, officials said. Nihi Sharma Sahani reports. Disaster still lurks in Uttarakhand | 'Compiling list of dead is top priority'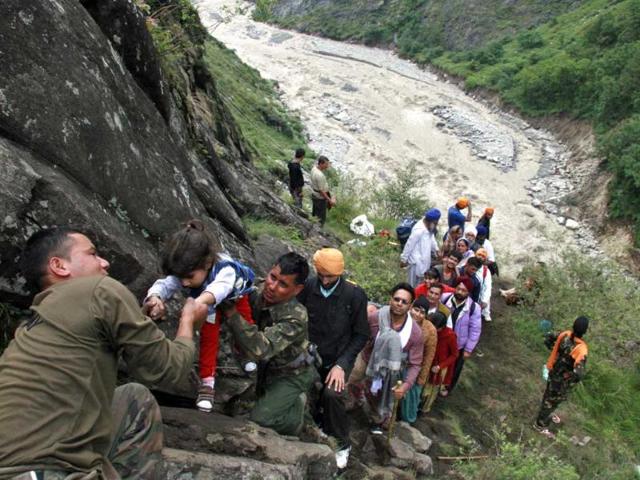 Updated on Jul 01, 2013 11:04 AM IST
Hindustan Times | By Nihi Sharma Sahani
, Dehradun
A 200-member team comprising policemen, forensic experts, mountaineers, fire fighters and helpers will be headed for Kedarnath to unearth thousands of bodies buried in debris, officials said on Sunday.
Half the team will fly out from the Guptkashi base station to reach the disaster zone by Monday afternoon while the rest will join later.
"The team's take off will depend on the weather," deputy inspector general of police Sanjay Gunjiyal told HT.
Officials said the team has been asked to collect DNA samples as chief minister Vijay Bahuguna was against any autopsies on bodies recovered from Kedarnath.
"Mountaineers and fire fighters were roped in to help digging out bodies buried deep inside the debris," an administrative officer said, adding 50 police personnel were picked for the job.
Meanwhile, health officials allegedly did not start disinfecting the Kedarnath area despite 26,250 kg bleaching and 5,000 kg limestone powder being dispatched. Purification of water with 500,000 chlorine balls in Uttarkashi, Chamoli and Rudraprayag districts did not start too.
GS Joshi, director general of health, put the onus of using chlorine balls on Asha and Anganwadi workers.
Close Story