The real story, anyone?
Updated on Aug 23, 2012 10:36 PM IST
The conflict in Assam is being interpreted by everyone to suit their own ends. Sanjib K Baruah writes.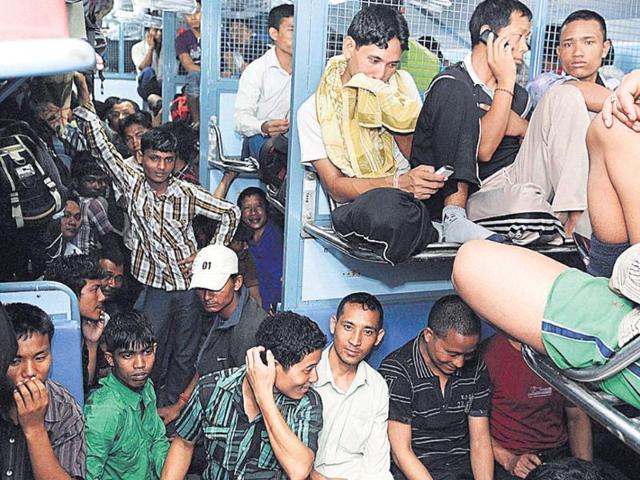 Hindustan Times |
Sanjib K Baruah
India's history is replete with examples of how stray incidents of tensions among individuals of different faiths can lead to communal conflicts. Unfortunately, we never seem to learn from our past mistakes. The latest example is the excessive use of communal overtones in the conflict between immigrants of Bangladeshi origin and local indigenous people in west Assam. A local ethnic issue has been blown out of proportion and is being made out to be a Hindu versus Muslim one. It is only people with vested interests who are talking up the flare-up to serve their own cause.

Otherwise how can one explain what happened in Lucknow, Kanpur and Allahabad last week or even in Mumbai when Muslims went on a rampage over what is happening in one corner of a country that no one talks about unless it is about violence and insurgency?
The other important fact is that some core issues are being replaced by ones that reek of communalism. In the Assam case too, the issues of land, resources and economics and the ongoing demographic changes were relegated to the background, while the focus on religious differences are being sharpened.
Not disregarding the rabid SMSs and MMSs, stray incidents of violence in cities from where the exodus of Northeasterners is taking place by the trainload, economic factors have also been responsible for the flare-up. In the last few years, youth from the northeastern states have taken up a substantial chunk of jobs in cities like Bangalore, Pune, Hyderabad, Chennai and Goa.
Significantly, amid all these issues, a very important voice, that of indigenous Assamese Muslims, is getting lost. According to the 2001 census, this 25 lakh-strong community has been at pains to explain that the issue is not communal in any way. On the contrary, it has warned Maulana Badruddin Ajmal, chief of the All India Democratic United Front, to desist from communalising the issue.
These Muslims, largely converts or descendants of the Mughal army, are indistinguishable from the other Assamese-speaking populace in the way they dress, eat or live. Their 'zikirs' or religious songs praising god form a part of the core package of Assamese ethnic and indigenous culture. Interestingly, this community has long been demanding recognition as an ethnic community rather than as a religious minority in the state.
The conflict in Assam is being seen, interpreted, and presented by everyone to suit their own ends. So the clash is being seen as one between Bodos and Muslim immigrants, Bodos and settlers, Assamese and immigrants, Northeasterners and immigrants, Indians and foreigners and Hindus and Muslims.
Personalise your news feed. Follow trending topics