Tibetan boy self-immolates to protest against Chinese rule
A Tibetan teenager is in a critical condition in a Delhi hospital after he set himself on fire to protest against the Chinese rule of Tibet.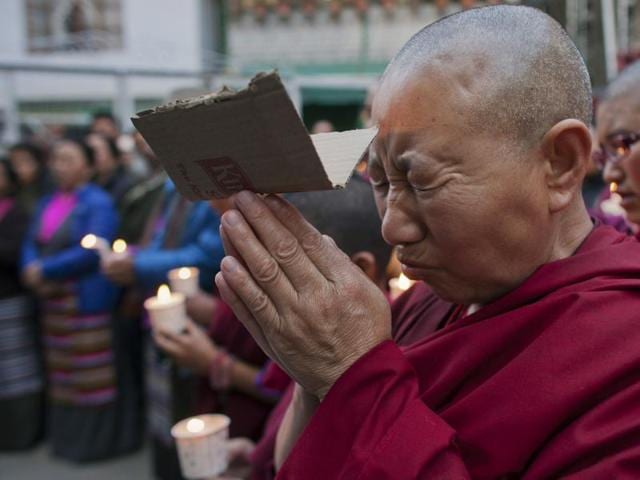 Updated on Mar 03, 2016 03:41 PM IST
Hindustan Times |
, New Delhi
HT Correspondents
A Tibetan teenager is in a critical condition in a Delhi hospital after he set himself on fire to protest against the Chinese rule of Tibet.
Dorje Tsering, 16, who self-immolated in Dehradun on Monday, had told his parents he hoped to do something "for the cause of Tibet", a Tibetan source was quoted as saying by the US government-funded Radio Free Asia.
He set himself ablaze near a housing complex for elderly Tibetans in Dehradun Lobsang Tsultrim, a staff member of the housing complex, said, "He was severely injured in the fire, and was quickly moved to the Safdarjung Hospital in Delhi.
The boy was admitted to the Safdarjung Hospital's burns intensive care unit and doctors described his condition as "extremely critical" on Thursday.
"He has 95% burns and is under intensive care. We are keeping our fingers crossed but such cases are at a high risk of contracting infection, which is our biggest challenge," said a doctor in the department, requesting not to be named as he was not authorised to speak to the media.
Tsering had hinted at his protest and asked his parents if they would be happy if he was able to do something for Tibet. "(On Monday), he did exactly what he said he would do," Tsultrim said.
In a video shot at his hospital bed, Tsering is seen saying: "I did discuss my intentions with my parents, who told me they would kill themselves if I did this.
"I have had a strong determination to do something for Tibet since my childhood…I thought that there was nothing else I could do other than self-immolation, because if there is self-immolation, people get shocked, thinking that he set himself on fire for his country," he said, speaking through an oxygen mask.
He added, "I want His Holiness the Dalai Lama to live long and for Tibet to achieve its independence."
Tsering's protest coincided with the death of a Tibetan Buddhist monk who set himself on fire near Retsokha monastery in western Sichuan province's Tibetan autonomous prefecture of Kardze on Monday.
Kalsang Wangdu self-immolated on Monday afternoon. He called out for Tibetan independence while he burned and died on the way to a hospital in the provincial capital of Chengdu, Radio Free Asia reported.
In a statement issued on Tuesday, London-based Free Tibet director Eleanor Byrne-Rosengren said Tsering's protest "was a sign of how deep and sustained opposition to Chinese rule remains (even) among Tibetans outside Tibet".
"Whether inside or outside the country, young Tibetans feel the sense of injustice and are driven to act because of it," she said.
Tibetan exile sources say at least 114 monks and laypeople have self-immolated over the past five years, with most of them dying. Radio Free Asia put the number of self-immolations at 144 since 2009.
The protests are seen as an extreme expression of the anger and frustration felt by Tibetans living under Chinese rule. Many protesters also call for the return of the exiled spiritual leader, the Dalai Lama, who fled to India in 1959.
(With inputs from agencies)
Close Story
Personalise your news feed. Follow trending topics