'Unconstitutional' authority influenced PMO in UPA rule: PM Modi
Hitting back at Sonia Gandhi for her sharp attacks on him, Prime Minister Narendra Modi suggested on Wednesday that she had been an "unconstitutional" authority exercising "real" power over the PMO during the UPA rule, but now power was wielded only by constitutional means.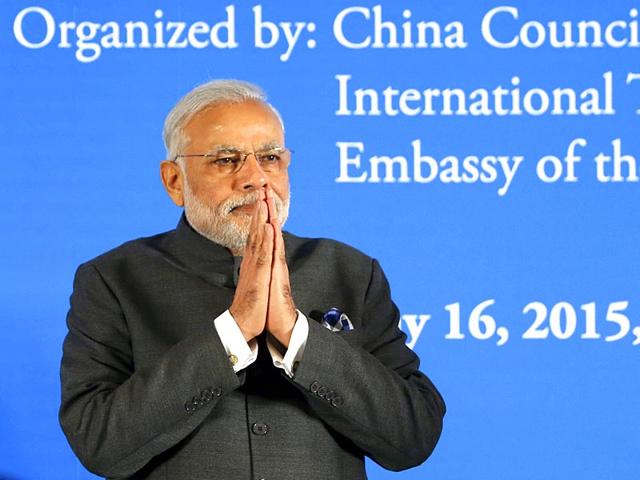 Updated on May 27, 2015 07:46 PM IST
Hitting back at Sonia Gandhi for her sharp attacks on him, Prime Minister Narendra Modi suggested on Wednesday that she had been an "unconstitutional" authority exercising "real" power over the PMO during the UPA rule, but now power was wielded only by constitutional means.
Dismissing the Congress president's accusation that NDA government was showing "obstinate arrogance" in Parliament and that it was a government by "one person", Modi said, "Perhaps, she is referring to the fact that earlier extra-constitutional authorities were the ones really wielding power".

He went on to say that power was now "wielded only by constitutional means". If the charge is that "we are working through constitutional channels and not listening to any extra constitutional authorities, then I plead guilty to that charge."

His sharpest attack yet on both Sonia and Congress vice-president Rahul Gandhi came in the course of an interview to PTI during which he also
answered questions on "concentration" of power in the Prime Minister's Office (PMO), minorities, NGOs, land acquisition and GST bills, economic reforms and a wide variety of other topics.

Asked about the criticism that all powers were concentrated in the PMO, Modi responded, "Your question is loaded. It would have been better if this question had been asked when an unconstitutional authority was sitting above the constitutional authority and exercising power over the PMO".

He emphasised that "the Prime Minister and the PMO are very much part of the constitutional scheme, not outside it".

Countering Rahul's "suit-boot ki sarkar" jibe, Modi said that the Congress had not been able to "digest" its crushing defeat in Lok Sabha polls even after one year.

"The people have punished them for their sins of omission and comission. We thought they would learn from this, but it looks as though they are proving right the earlier saying that if con is the opposite of pro, then Congress is the opposite
of progress," he said.
The Prime Minister, who entered the second year in office Wednesday, spoke about programmes like Swachch Bharat, toilets for schools, Jan Dhan, insurance for poor and pensions schemes launched by his government.
He said the future focus of his government would be on women, farmers, the urban poor and on employment. "Whatever we have started, needs to be taken forward and into the villages and municipal areas."
Modi said that when he took over, "the civil service was totally demoralised and afraid of taking decisions".
The Cabinet system was also in "disrepair due to the operation of extra-constitutional authorities from outside and groups of ministers from inside", he said, adding that changing the atmosphere of gloom was a very challenging task.
He had faced "many difficulties in rectifying the situation and bringing back confidence and hope", the Prime Minister said.
Asked if he had "understood Delhi" by now, Modi replied that when he assumed office, "I found that the corridors of power in Delhi were littered with lobbies of various kinds".
"The task of cleaning the corridors of power(or cleaning the lobby of lobbies) was important so that the government machinery itself is improved. This process of correction and cleaning took quite some time but it will provide long term benefits in the form of clean and fair governance," he said.
He went on to say, "One thing I fail to understand in Delhi is how the same parties which as state governments seek amendments to the land acquisition law suddenly become opponents of the amendments when they are sitting in Delhi."
Modi said the bills on land acquisition and Goods and Services Tax (GST) were beneficial for the country and "it is a matter of time before these laws are passed".
On the agragrian crisis and suicides by farmers, the Prime Minister said suicides have been a concern for several years and "political point-scoring" would not solve the problem.
"I want to assure our farmers that this government will never be found wanting in doing whatever is needed for their welfare," he said, adding that he had asked all parties for their suggestions to bring contentment and security to the farmers.
Answering a question on attacks on minority communities and their institutions, Modi said any criminal act against any individual or institution in the country is to be condemned.
"The attackers must be strongly punished as per law. I have said this before and I say it again (that) any discrimination or violence against any community will not be tolerated," he said.
Defending the Centre's action against NGOs which has been widely criticised, Modi said the steps taken are only to enforce the law as passed by the previous government. "There has been no action taken contrary to law. No patriotic citizen can object to this."
Dismissing opposition criticism of his frequent foreign trips, Modi responded by saying that 17 years without a visit by an Indian Prime Minister to Nepal was not a good situation.
"Just because we are a large country, we cannot be arrogant and think that we can ignore others. We live in a different era. Terrorism is global and can come from several remote countries."
"International summits and organisations like WTO take decisions which will bind us and if we are not present in such summits, we may be hurt by the decisions taken," he said.
Modi said that ever since he had taken office "my friends in the opposition have been levelling baseless allegations about my foreign trips" but "all recent surveys show that the highest approval rating is for our foreign policy".
Countering the charge of concentrating powers in PMO, Modi said that increased powers had been delegated to individual ministries with the result that many decisions that earlier needed to come to the Prime Minister, and the Cabinet can now be taken by ministries themselves.
He said the financial delegation for ministries had been trebled and devolution to the states had been increased.
"We have not made any changes in the business rules of the government and decisions are taken by those authorised to take them," he maintained.
On land acquisition bill on which he has been charged by the opposition with favouring the corporates, Modi said that while he did not want to get into political mudslinging, the subject of land was not with the central government which did not require lands. All rights relating to lands are with the states.
"The 120-year-old Land Acquisition Act was amended by the previous government without even 120 minutes of discussion in Parliament. Thinking the bill was good for farmers, we also supported it at that time."
"Later, many complaints came from the states. One should not be so arrogant as to avoid correcting mistakes. So we brought the bill to rectify the errors, that too in response to the demands of the states. Anyone who looks at our proposed amendments without politically-tinted glasses will give us full marks," he said.
Asked if the government was open to suggestions on the bill, the Prime Minister replied, "Gaon (village), Garib (poor), Kisan (farmer)-if the suggestions are favourable to these downtrodden groups and are in the interest of the nation, we will accept those suggestions".

Read: Manmohan speaks out: 'Never used public office to enrich self, BJP's policy paralysis claim not true'

Read: Achche din are here, but not for those who looted the country: PM Modi
Close Story
Personalise your news feed. Follow trending topics