Unions protest as DU admissions go online
Varsity blues Student unions allege the move is a deliberate attempt to depoliticise the university, threaten to go on strike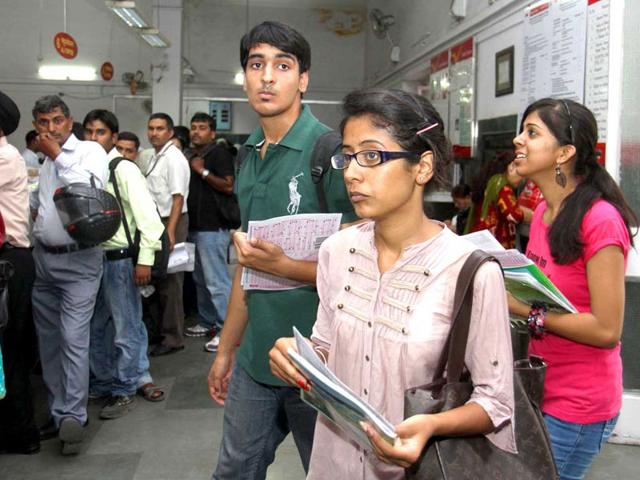 Updated on May 27, 2015 06:02 PM IST
The Delhi University's (DU) decision to drop admission centres for undergraduate courses at its campus in north Delhi has drawn the ire of student unions.
The unions are protesting against the university's decision to exclude north campus colleges an offline registration centres for undergraduate admission.
While online admissions to the university will begin on May 28, eight centres, scattered across the Capital will begin the process of offline admissions on June 5.
The unions allege that it is a deliberate move to depoliticise the university.
The National Students Union of India (NSUI), the Congress party's student wing, staged a protest against the decision of the university on Wednesday. "Students come from different parts of the country to study in DU's north campus. Every year there used to be at least one offline registration centre in north campus," said Amrish Ranjan, an NSUI spokesperson.
The unions have demanded immediate intervention on this matter by the university, failing which they have threatened to go on a strike.
Akhil Bharatiya Vidyarthi Parishad (ABVP), a right-wing students' union associated with the RSS, termed the university administration dictatorial and undemocratic. "Is this a deliberate attempt of the university administration to depoliticise the university by keeping new students away from unions and student organisations?" asked Saket Bahuguna, ABVP Delhi state secretary.
Even the left-leaning All India Students Association (AISA) said the move by the university would create unnecessary inconvenience for students.
"We condemn the university's move. North campus represents the face of DU. The student community converges here, so the decision by the university makes no sense," said Sunny Kumar of AISA.
The university, however, maintains that the decision was taken for the convenience of the students because offline admissions create chaos in north campus.
Close Story
Personalise your news feed. Follow trending topics