VK Singh under fire: Rajnath slams comment, AAP files complaint
Updated on Oct 23, 2015 06:52 PM IST
Retired general had made controversial comment about the attack on a Dalit family at Sunperh village of Faridabad district.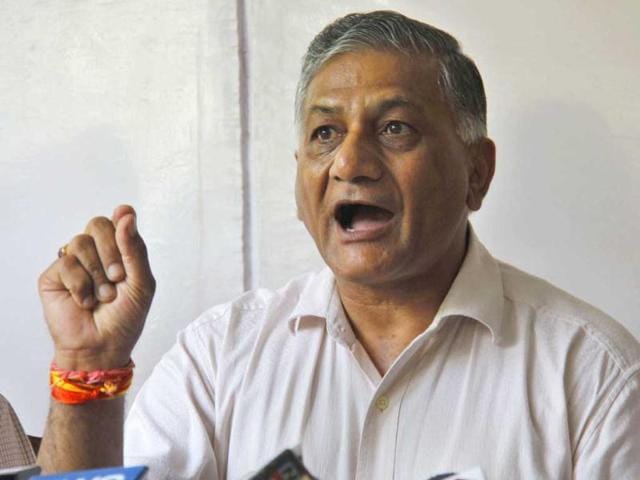 Hindustan Times |
, New Delhi/patna/lucknow
HT Correspondent
Home minister Rajnath Singh pulled up senior BJP leaders on Friday for a string of controversial remarks, a day after his colleague VK Singh triggered outrage by allegedly comparing the killing of two Dalit toddlers to stones thrown at a dog.
Rajnath said BJP leaders must ensure no wrong message was communicated through their statements amid mounting calls for VK Singh's ouster and criticism of minister of state for home Kiren Rijiju for apparently disparaging remarks about north Indians. Both leaders clarified later they were misquoted.
"We can't get away by saying statements were misinterpreted or twisted. I feel that as leaders of the ruling party, we must all be extra cautious," Rajnath told reporters.
"We should also ensure that there is no possibility of our statements to be interpreted in the wrong way or send an incorrect message."
Rajnath said the controversy regarding VK Singh – minister of state for external affairs -- and Rijiju should end as they had already clarified matters.
Rijiju courted controversy when he said he agreed with a former lieutenant governor of Delhi who once remarked north Indians "take pride in and enjoy" breaking rules.
This is the second time the BJP has been forced to tick off erring ministers for controversial statements. Last week, party president Amit Shah reprimanded four senior leaders – including Union ministers Sanjeev Balyan, Mahesh Sharma and Haryana chief minister Manohar Lal Khattar – for making provocative statements on Mohammad Ikhlaq's mob lynching in Uttar Pradesh over beef consumption rumours.
The party feels such comments, and the ensuing flare-up of sectarian passions, take the focus away from the government's development agenda.
At a meeting in Ghaziabad on Thursday, VK Singh said local incidents couldn't be associated with the Centre, a day after two Dalit children were burnt alive by upper-caste men in Faridabad. The killing set off a volley of condemnation of rising caste-related violence and the inability of the BJP government to stop.
"For everything...like if somebody throws a stone at a dog, then the government is responsible...it is not like that," he had said.
Hours later, VK Singh clarified he was misquoted but the comments created ripples across the country. In Delhi, the Aam Aadmi Party registered a police complaint while the Scheduled Caste Commission termed the statement "unfortunate" and issued notices to the police, seeking to know whether action could be taken under the Indian Penal Code and the SC/ST Prevention of Atrocities Act.
The controversy also made things tough for the BJP in Bihar, where the party is locked in a tight contest with a grand alliance of RJD-JD(U)-Congress, with the saffron coalition aggressively wooing the Dalit vote. The BJP's ally and Mahadalit leader, Jitan Ram Manjhi, said the comments showed VK Singh's feudal mindset while both Nitish Kumar and Lalu Prasad took potshots at Modi.
"People voted for them in Haryana. What happened there? Dalit children were burnt. If there is "jungle raj" in Bihar then is it 'mangal raj' in Haryana?" Nitish Kumar asked at a poll rally.
Senior Uttar Pradesh minister Azam Khan also condemned VK Singh, comparing his comments to controversial remarks by Modi last May when he said a person sitting in the backseat of a car also felt sad when a puppy came under its wheels, when asked if he regretted the 2002 Gujarat riots.
"This is the culture of BJP and RSS, and this culture is harming the nation," Azam Khan said.
Gen VK Singh on Dalit killings: 'Govt can't be blamed if a dog is stoned'