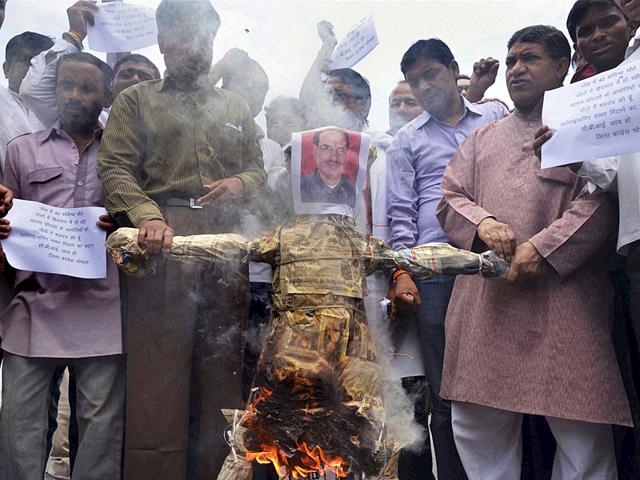 Vyapam issue top priority in Parliament: Sonia tells Congress MPs
The party has been demanding the resignation of top BJP leaders Sushma Swaraj and Vasundhara Raje for allegedly helping former Lalit Modi get UK documents.
UPDATED ON JUL 22, 2015 08:18 AM IST
The Congress is planning to hold a demonstration outside Parliament on Wednesday to demand action against those accused in the multi-crore Vyapam scam and move an adjournment motion in the Lok Sabha, potentially threatening the government's reform agenda.
The party came out all guns blazing on the opening day of the monsoon session as it stalled work in the Rajya Sabha over the recruitment fraud and another swirling controversy involving top BJP leaders and former IPL boss Lalit Modi.
Within minutes of forcing the Rajya Sabha adjournment, Congress president Sonia Gandhi met party MPs to formulate a strategy to take on the government and said the Vyapam scam would be the top issue for the Congress, followed by the Lalit Modi row.
The Congress has been demanding the resignation of foreign minister Sushma Swaraj and Rajasthan chief minister Vasundhara Raje for allegedly helping Lalit Modi get UK documents while he was being investigated by the Enforcement Directorate on charges of money laundering.
It has also been pressing for Madhya Pradesh chief minister Shivraj Singh Chouhan to quit for his alleged involvement in the Vyapam scandal.
"We have made our position clear that ministers facing charges have to resign. Unless the government accepts our demand, there is no question of parliament functioning," senior Congress leader Ghulam Nabi Azad told HT.
The party has threatened to stall Parliament if its demands aren't met, a move that could jeopardise the government's plans of passing a raft of reform measures, including the key goods and services tax bill. An all-party meeting on Monday failed to resolve the deadlock, in spite of an offer by Prime Minister Narendra Modi of a debate on all contentious issues.
At the party meeting earlier in the day, Congress vice-president Rahul Gandhi stressed on maximum attendance of Lok Sabha MPs at a time when the party -- reduced to just 44 MPs in the lower House – is struggling to remain the principal opposition party with AIADMK (37 MPs), Trinamool Congress (34)and Biju Janata Dal (20).
Rahul told party legislators that everyone should be present each day and added, "We have to show them (the BJP) our strength."
The Congress' strategy to pick the Vyapam scam as its top issue is carefully crafted as it senses support from some other Opposition parties on the matter.
"We are not with the Congress. We do not want to disturb Sushma Swaraj. But we want the resignation of Chouhan and Rajasthan chief minister Vasundhara Raje," SP general secretary Kiranmoy Nanda told HT.
Hundreds of workers from the Congress' women's wing also took to the streets, shouting slogans against price rise and accusing PM Modi of failing to deliver on poll promises.
"Before the general elections, (Narendra) Modiji made a number of promises on fighting corruption, controlling inflation, zero tolerance against atrocities on women. But now, there is a U-turn on all these issues. We demand the resignation of all BJP leaders involved in cases of corruption and impropriety," All India Mahila Congress president Shobha Ojha said.
(with inputs from agencies)
Close