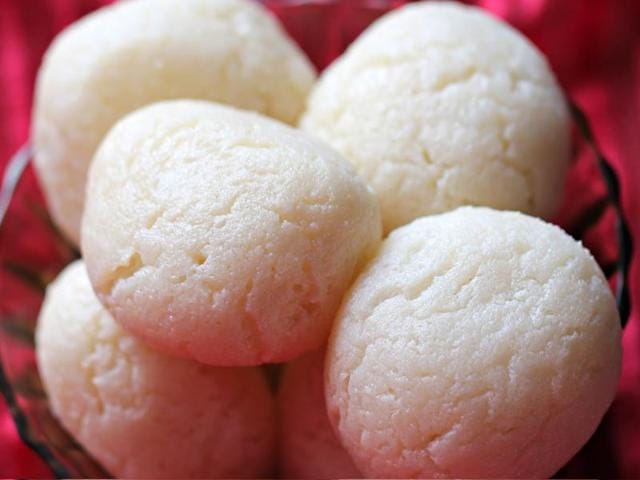 Why Bengal, Odisha's claim to rasgulla is not 'rational'
Experts say it's a ridiculous idea to geographically tag the rasgulla. It will hardly give India a global economic leverage, unlike Darjeeling tea or basmati.
Hindustan Times | By
Zia Haq
, New Delhi
UPDATED ON OCT 06, 2015 11:56 AM IST
A fight over the rasgulla -- India's quintessential sweetmeat -- is brewing between West Bengal and Odisha in right earnest.
But like many food-patent battles before it, this one is sure to leave a bitter aftertaste, analysts said.
Both states have staked claim to India's most iconic snack -- a syrupy, spongy ball -- and are now reportedly preparing to acquire a Geographical Indication (GI) for it, which is essentially about putting a legal stamp of origin on the rasgulla. Neither has yet formally applied for the hallmark, officials told HT.
Odisha's ministry of micro, small and medium enterprises asked officials in state's cultural capital Cuttack to initiate the process of applying for a GI tag for the 'pahala' variety of rasgulla. The Odiyas claim their less sweet and more subtle variety has been offered at Jagannath Temple in Puri as part of religious rituals since the 12th century.
Hell hath no fury like a Bengali scorned! Who doesn't know Bengal's association with the rasgulla! Wait a minute, it's 'roshogollah'. Pronounce it 'raw-show-golla', like Bengalis do, who claim it was developed by Calcutta noble Nobin Chandra Das in 1868 and then mass-produced by the KC Das chain of confectionaries launched by his son.
The stage is thus set for an epic battle.
Battlelines are being meticulously drawn, for boundaries matter here as much as they did in the Franco-Prussian war. These will run through colonial palace intrigues, food history, culture, anecdotes and, possibly realms of old newspapers. Testimonies from traditional confectioners called 'karigars' will be Gospel.
But here's why it's a fallacious fight destined to go nowhere. The GI concept evolved in France. A typical example of GI is Champagne, which refers to a bubbly, only grown in the Champagne district. Everything else is just sparkling wine.
Also read: Who invented the rasgulla and Mysore pak?
GIs are essentially about creating a commercial and cultural niche but the product for which a GI is sought must also be something of overriding national economic importance.
In India, GIs are granted by the Chennai-based GI Registry, which is a wing of the Intellectual Property Office.
If a GI application gets through, a name, logo and signage are assigned to brand a product to indicate certain unique qualities, which are directly linked to its geographical origin.
According to the Geographical Indications of Goods (Registration and Protection) Act ('Act'), 1999, a GI is "an indication which identifies such goods as agricultural goods, natural goods or manufactured goods as originating, or manufactured in the territory of a country, or a region or locality in that territory, where a given quality, reputation or other characteristic of such goods is essentially attributable to its geographical origin".
"It is a ridiculous idea to even think of getting a GI for something like the rasgulla. What commercial or competitive advantage or revenue is it worth?" asked Sumanthi Chandrashekaran, an intellectual-property policy expert.
For instance, a GI tag could be worth a fortune for an item like the basmati rice because it is a huge foreign exchange earner, just as Champagne is for France.
But even the case for a GI for basmati is currently stuck. Not only has Pakistan -- which has an equally fertile basmati belt -- objected to an Indian claim, but even state governments have objected to exclusivity being given for one basmati-growing Indian state.
"Internally, GIs work well as long as there is robust regulation," Chandrashekaran said.
India's GI regulatory framework is still wishy-washy and isn't as robust as its patent laws. For example, the benefits from patent are well defined, such as 20-year protection and exclusive rights. GI for internal products have no such clearly defined benefits. India's only truly GI item is Darjeeling tea, for which the government had to fight a long hardy battle.
The rasgulla is too ubiquitous to get a geographical marker, experts said. To a food taster, its place of manufacture is not likely to alter its natural qualities significantly. Neither is it an export commodity.
"It's not a rational idea because it's like seeking a GI tag for your daily roti (flat bread)," said food blogger Anand Dalal. Maybe, the best thing to do with a rasgulla, he said, is to eat it.
Close