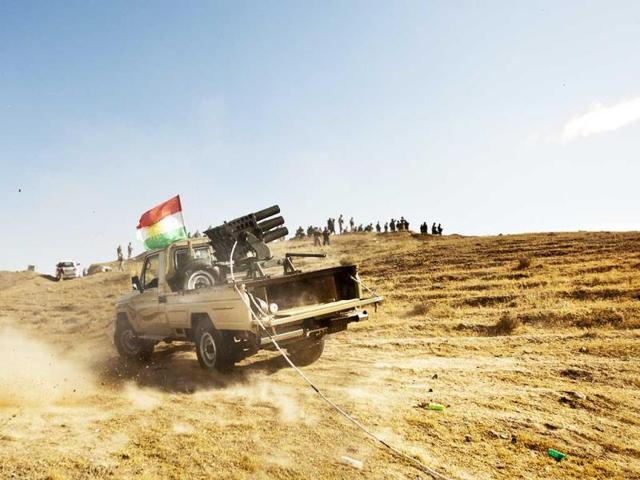 Young Indians joining ISIS call for jihad in West Asia
Indian security agencies have identified at least 10 men who have left their lucrative jobs to fight alongside Islamic State of Syria and Levant (ISIS) terrorists to establish a pan-Islamic caliphate.
Hindustan Times | By Shishir Gupta and Toufiq Rashid
, New Delhi / Srinagar
UPDATED ON AUG 06, 2014 08:59 AM IST
For this business family of four in Srinagar's upscale Jawahar Nagar, life was smooth. For them, their eldest son, 26-year-old Adil Fayaz, was an achiever — an MBA from Australia's Queensland University ostensibly working with an NGO in Turkey.
But the story, according to Indian security agencies, is very different. Senior home ministry officials say Adil was radicalised by Islamic fundamentalists in Australia. He then, they say, left for Turkey and entered Syria via Jordan to join jihadists in the civil war in June 2013. Although his family claims Adil is working for an NGO in Turkey to help Syrian refugees, they don't have the name of the NGO or its phone number. Their son talks to them on voice over internet protocol (VoIP).
Adil is perhaps the first Indian from Kashmir to join the Syrian jihad against the Bashar al-Assad regime.
The police in the Valley said they don't have any such information. "We don't have any information about any Kashmiri boy having joined the fight in Syria," said AG Mir, IG Police, Kashmir.
But Omar Abdullah, J&K chief minister, told HT, "No one from Kashmir has gone to fight in Syria. However, there is reportedly one boy who had gone to Australia and has been recruited from there."
Adil is not the only one reportedly attracted to the jihadist movement in Syria and Iraq. Indian security agencies have identified no less than 10 Muslim youngsters who've left lucrative jobs to fight to establish a pan-Islamic caliphate. Apart from four youngsters from Kalyan, near Mumbai, who are believed to be fighting alongside Islamic State of Syria and Levant (ISIS) terrorists, a Kerala youth studying in Dubai and a Hyderabad student from Texas have joined Islamist fighters in Syria.
The home ministry has no idea how many from among Indian expatriates in the Gulf and West Asia have joined jihad, or the 'holy war'.
Adil's family — his father is a businessman and the family runs a local supermarket — denies his involvement in any jihadi movement. "He is working in Turkey and is in regular touch with us. Even last night we were speaking to him on Skype till 3am," a family member told HT, requesting anonymity.
"If the home ministry has such information, why weren't we told? Adil is not missing, neither is he a jihadi. If the government has proof, they should show it," he said.
"Besides, if he is involved in any such activity, we wouldn't know. One can't vouch for people living at home, Adil lives so far away."
Born on March 1, 1989, Adil attended an English medium school in Srinagar. After completing his BBA, he went to Australia in 2009, where he did his MBA and masters in commerce. The family last saw him in June 2013, when, according to them, he left for Malaysia to join an Australian NGO working with Syrian refugees in Turkey. "He has promised to return this October," his relative said.
Close