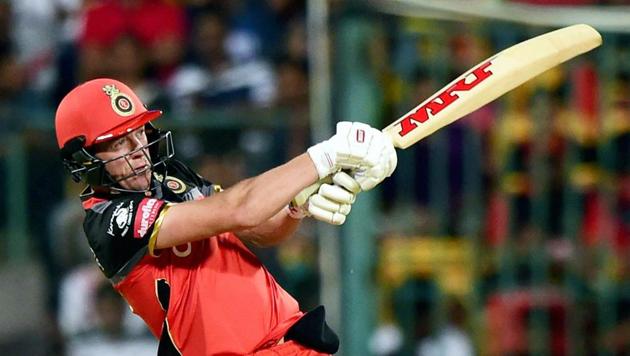 IPL 2017: RCB out of race, AB de Villiers backs Mumbai Indians for title
AB de Villiers has backed Mumbai Indians to go on and win the IPL 2017 title, while admitting that Royal Challengers Bangalore have been below par this season
UPDATED ON MAY 02, 2017 08:03 PM IST
Last season's finalists Royal Challengers Bangalore (RCB) haven't enjoyed the best of results in the 2017 Indian Premier League (IPL). The five-wicket loss to Mumbai Indians (MI) at the Wankhede on Monday leaves RCB second from bottom of the table with five points from 11 games. With their campaign in tatters, star batsman AB de Villiers is hoping RCB can finish with their heads held high, while backing MI to go on and win the title. (IPL 2017 FULL COVERAGE)
"Unfortunately this year, we haven't played as well as we wanted to. But I think there are still some very good lessons that we learnt this season," said De Villiers during a promotional campaign.
De Villiers rated Mumbai Indians as one of the favourites for the title, saying: "Mumbai can be very happy with Rohit Sharma batting so well for Mumbai Indians. They have been a wonderful team and have a good chance of going all the way this season."
Talking about the defeat to Mumbai Indians, he said: "Those last few balls, I was quite nervous and hoping we could somehow find a way to pull through. It wasn't meant to be but we have a few more games left and hopefully we will finish the season with a bit of dignity."
READ | Bangladesh ban bowler for conceding 92 off four balls in domestic encounter
De Villiers has played in the IPL since its inauguration and reflected on his three years with Delhi Daredevils and seven with RCB fondly. He has great memories of the tournament, where he has become a huge draw.
"The last 10 years have been all about memories. I have created some great memories in India.
"The fans, friendships I've made in the team and with the people who support us — those are the kind of things that stand out to me over the last 10 years.
"It's just great memories and I am honoured and privileged to have been a part of it."
READ | IPL 2017: Shikhar Dhawan, Bhuvneshwar Kumar boost India ahead of Champions Trophy
De Villiers said he planned to rope in RCB skipper Virat Kohli to help spread the word about his initiative on child education awareness.
The South Africa captain is set to be father again and while he missed a bit of cricket to spend time with his family the past year, he is charged up for the season ahead.
The next target is the ICC Champions Trophy in England and Wales.
"I love my child. It's obviously been a huge change in my life with him being around. There's another one on the way so a lot of things are changing in my life.
READ | MS Dhoni tops IPL 2017 charts on Twitter; Mumbai Indians most talked about team
"I hope to still be there and continue what I'm doing which is playing cricket. It's my first love. I have a big passion for cricket so I'll play for as long as I can.
"My next tournament is the Champions Trophy and it is something that South Africans would love to win," he said.
"I thought we did well in the game (against Mumbai), which is great. That's what you want in cricket — you want to compete. I think we let ourselves down in the last few games because we were not competing as well as we wanted to."
Close