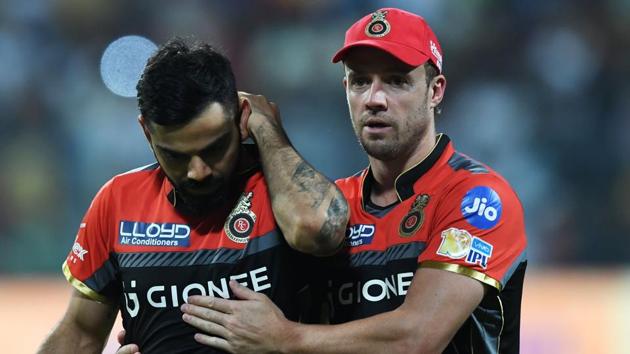 RCB lose again: When Virat Kohli, AB de Villiers disagreed on bowling tactic
Royal Challengers Bangalore's (RCB) Virat Kohli and AB De Villiers had a difference of opinion when it came to Anirudh Choudhury's bowling plan in the 18th over of the match against Mumbai Indians.
Mumbai | By HT Correspondent
UPDATED ON MAY 02, 2017 01:16 PM IST
Bowling the 18th over of Mumbai Indians innings at the Wankhede, Aniket Choudhary had kept Royal Challengers Bangalore in the game with five runs off his first five balls. (HIGHLIGHTS)
The equation was 25 off 13 balls, which would have been a stiff target even for Rohit Sharma and Hardik Pandya, the two batsmen at the crease. (SCORECARD)
Aniket sent his next ball wide and as he got ready to bowl the final ball of the over again, he walked up to AB de Villiers for advice. Even as captain Virat Kohli yelled out instructions to the bowler after his talk with De Villiers, Aniket delivered a straight, short ball. Hardik Pandya's eyes lit up and he made the most of the gift by smashing it for six over midwicket to reduce the equation to a gettable 18 runs off 12 balls.
"In the last training session, I was practicing with AB and he said I was bowling well. In this match also, he was backing me from the first ball. As far as the last ball was concerned, I was wondering whether to bowl (Hardik) the slower one or fast one. Maybe it was a match-changing point. So I asked him (AB) 'what should I bowl?' He said 'maybe he's ready for the slower one, you should go with the hard length.' When someone as great as AB tells you do to something, it's hard to go against it. Virat wasn't happy with what I bowled. He thought I did the wrong thing and should have bowled full and slow," said Aniket.
READ | IPL: Mumbai Indians beat Royal Challengers Bangalore by 5 wkts, rise to top
Stuck on five points after 11 games, it has been a forgettable season for Royal Challengers. Aniket blamed it on bad luck. "Things didn't go our way. Things happen quite fast in T20 and when things don't go your way… (its difficult to stop)."
Harbhajan, Krunal fine
For table toppers Mumbai Indians, the challenge will be to maintain the intensity in their last four games. Karn Sharma said it will be important to not take the foot off the pedal. "We have qualified but cannot take the four matches lightly as we need to take the momentum to the knockout stages."
Their only concern was injuries to spinners Harbhajan Singh and Krunal Pandya, but Karn assured both were fit.
Close