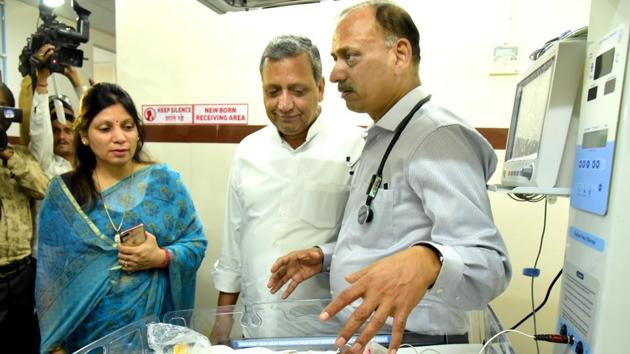 105 more beds at neonatal ICU at JK Lone Hospital
The hospital's medical superintendent Dr Ashok Gupta said 51 beds in the NICU have a ventilator.
UPDATED ON MAY 04, 2018 09:38 PM IST
Now, more neonates will get beds at the neonatal intensive care unit (NICU) as 105 more have been added to the Sawai Man Singh Medical College's JK Lone Hospital in Jaipur on Friday. The hospital now has over 200 beds. Apart from 105 beds, the hospital has 32 surgical and 64 medical beds in NICU.
The hospital's medical superintendent Dr Ashok Gupta said 51 beds in the NICU have a ventilator. "More beds and a world-class treatment facility will bring down neonatal mortality rate (NMR)," he said. According to Health Index Report released by NITI Aayog in February this year, NMR is 30 per 1000 live births.
The 105-bedded NICU was built at a cost of Rs 8 crore.
The NICU has double glass, hence outside temperature will not affect the inside temperature and it saves energy. The machines are ultramodern and noise is low, which will not affect the baby and even lighting will be in night mode.
Dr Gupta said that switches and sockets have miniature circuit breakers and in case of a short circuit or electric fault, it will trip and there will be no fire. There are also two isolated beds in ICU in case of any infectious disease such as swine flu. He said that in 2015, 9043 babies were admitted, which doubled in 2017 to 16340 babies.
A Cosmetic Clinic was also inaugurated at Sawai Man Singh Hospital, which has the latest laser machines to treat skin problems along with a 32-bedded swine flu ward, including 12 ICU beds.
SMS Medical College principal Dr US Agarwal said three laser machines worth Rs 1.25 crore have been set up at the clinic and will prove helpful in treating many skin diseases, including treating wrinkles on the face, warts on various body parts etc. He also informed that now SMS hospital has 50 ventilators.
MLA Surendra Pareek unveiled the plaque at these three places. Local councillor Shweta Sharma, SMS Medical college additional principal Dr Deepak Mathur, Dr SM Sharma, Dr ID Gupta, SMS hospital superintendent Dr DS Meena and other senior doctors were present.
Close