Latest from mortality rate
In a study with more than 100,000 participants over a 30-year follow-up period, it was shown that people who exercise two to four times as much as is now recommended each week have a much lower risk of mortality.

Updated on Jul 28, 2022 06:14 PM IST
ANI | | Posted by Akanksha Agnihotri
, Washington [us]
Heatwave spells will almost certainly increase mortality and morbidity, degrade ecosystems, lead to crop failure and loss of productivity and economic output.

Updated on May 17, 2022 02:16 AM IST
A recent study conducted by the University of Turku and the Finnish Institute for Health and Welfare shed light on the connection between gut microbiota in humans and health and mortality.


Published on May 16, 2021 12:17 PM IST
The actual number of years a person could expect to live for depends on a range of socio-economic factors, health conditions, climate, etc.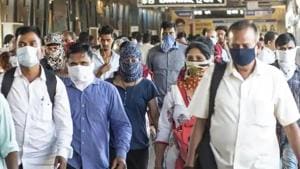 Updated on Sep 28, 2020 08:47 PM IST
Skin cancer deaths among men have soared in wealthy nations since 1985, with mortality rates among women rising more slowly or even declining, according to new research.

Published on Nov 05, 2018 04:00 PM IST
Paris |
By
Agence France-Presse